Leeds Rhinos accuse RFL of Zak Hardaker 'witch-hunt'
Last updated on .From the section Rugby League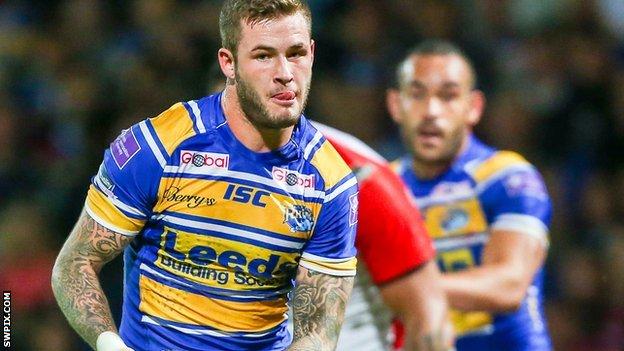 Leeds Rhinos have accused the Rugby Football League of a "witch-hunt" after it was revealed the governing body is looking into claims Zak Hardaker used homophobic language in the defeat by St Helens.
Leeds are calling for an independent probe into the RFL's investigation.
The England full-back served a five-match ban after being found guilty of homophobic abuse earlier this season.
The RFL has declined to comment on an active investigation.
Leeds chief executive Gary Hetherington told the club website: "We are concerned there appears to be a witch-hunt by the RFL towards Zak Hardaker and we are calling for an external investigation into the issues surrounding the investigation.
Referee Richard Silverwood on Twitter
'Two sides to every story. Shouldn't always believe everything that's written!'
"We know the match commissioner was asked by the media at the post match press conference if the referee had reported any incident or comment and they were told 'no'.
"We want to know why the referee's report quite mysteriously now contains a reference to a possible comment.
"We understand a St Helens player has been interviewed and he has stated he did not hear anything.
"There is a hint of mystery about the whole issue and the use of a lip reader has added a new dimension to on-field conduct, particularly when games are televised.
"We also want to better understand why the RFL are pursuing this so rigorously. The only person who appears to have heard anything at all is the referee and he has belatedly reported this despite not taking any action on the field or after the game with the match commissioner."