Shaun Wane: Wigan Warriors to play with 'sudden death' mentality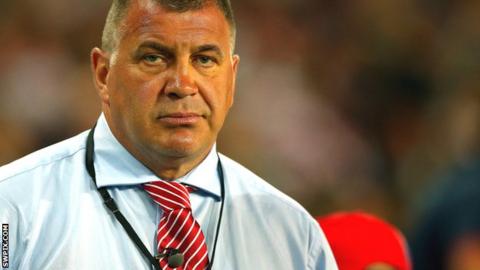 Wigan coach Shaun Wane says they are approaching Thursday's qualifying final against Huddersfield Giants as a "sudden death" encounter.
The Warriors won at Huddersfield at the same stage of last season's play-offs on their way to winning the title.
"It's a sudden death play-off game in my mind and the players are treating it that way. We want the week off," Wane, 50, told BBC Radio Manchester.
The victors on Thursday will progress straight through to the semi-finals.
Head-to-head: Warriors v Giants
12 Sep, 2013: Huddersfield 8-22 Wigan (qualifying final)
7 Feb, 2014: Wigan 8-24 Huddersfield
29 May, 2014: Huddersfield 31-22 Wigan
As for the losing side, they will appear in a preliminary semi-final a week later, where another defeat would end their season.
Wigan finished second in the Super League table and finished above third-placed Huddersfield on points difference, although the Giants did the double over Wigan during the regular season.
"We beat them in the game that mattered last year and it's that game again," said Wane.
"You need to get in their faces, you need to get some line speed, you need to dig your shoulder into them and get numbers into the tackle.
"We did that in the play-offs, challenged them and it was a really good performance."
While Wigan have won their previous two matches ahead of the first week of the play-offs, the Giants have not lost a Super League match since July are the competition's in-form side with six wins from seven games.
"It's been a long time since they lost a game and they have won in a good manner," added Wane, who is in his third full season as Wigan head coach. "I'm aware of the challenge ahead of us."
Super League play-offs: Week One
Qualifying finals
Elimination finals
Wigan v HuddersfieldThu 18 Sep (20:00 BST)
Warrington v WidnesSat 20 Sep (14:45 BST)
St Helens v CastlefordFri 19 Sep (20:00 BST)
Leeds v CatalansSat 20 Sep (17:15 BST)