Gateshead Thunder: Jordan Meads's week in the play-offs
Last updated on .From the section Rugby League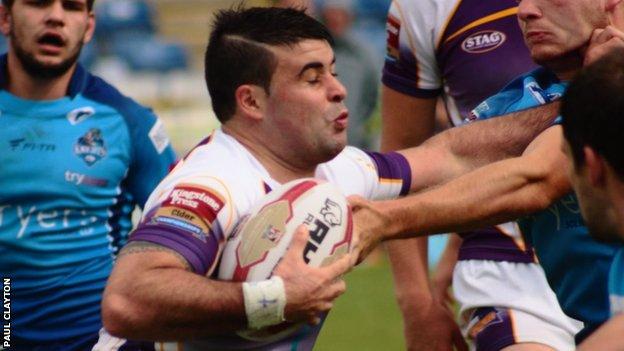 For rugby league clubs, the regular-season bustle for league positions is all about one thing: reaching the play-offs.
Whether it is the southern hemisphere National Rugby League or Europe's Super League, tussling for the top eight, or the battle for a top-five spot in the Championship, 'finals football' is where the sport comes into its own.
Gateshead Thunder, champions of National League Two as it was known in 2008, have struggled to avoid the wooden spoon in the last four seasons, but made their return to the knock-out phases with a fourth-place finish in 2014.
New Zealand half-back Jordan Meads has been a key part of the Thunder squad since his move to Tyneside in June, and kept a diary for BBC Sport documenting a historic week for the club.
Monday, 8 September
It's official. Hemel Stags have drawn with Oxford, which means that after 1,825 days and a little over five turbulent years for the club, we are finally back to the finals.
We will be playing at our new home away from home, Kingston Park, home of Newcastle Falcons. I know the lads will be more than excited for the week and the opportunity it presents.
Straight after, a text went around to the players to meet up for a coffee and to discuss the week ahead.
I haven't been at the club for a great length of time, but you could sense the emotions from the lads. Gone are the days of 132-0 thrashings and 64-game losing streaks. This was a big moment and straight away I felt the need to play my part.
As far as training goes, we all had the opportunity to do our own personal extras and rehab work.
On the menu for me was a massive 'smash-up' session with our head strength and conditioning coach Martin Nugent - 'up-downs', tyre throws, sprinting and a little spew. It wasn't pretty but it was definitely required after the weekend off training and the enormity of the task ahead.
Tuesday, 9 September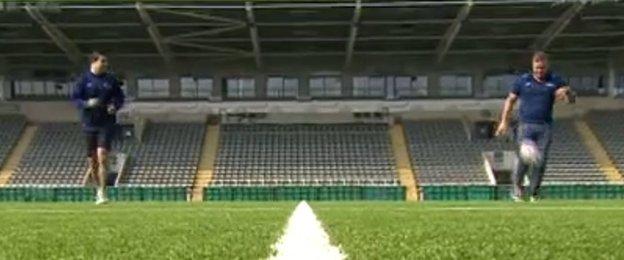 Something a little different today - this morning captain Jason Payne and I are off to Kingston Park for a morning of promotional activities. For most major sports people this is considered somewhat of a chore but for us it's unusual so we are quite looking forward to it.
We both completed a TV interview with the BBC, followed by another brief interview with the Thunder's marketing team to do a preview of the game, and had it wrapped up by midday.
Tonight was the first day of the week's official training - the important stuff. Although the job is far from done, this is what has made our season to date.
We started with a quick talk from experienced coach, Stanley Gene, who reiterated that it's all about keeping it simple, doing what we have practised and not getting too excited by going away from our structure.
You could pretty much say that message went in one ear and out of the other!
After a jittery start and some very tough conditioning work we went into our bread and butter, which is our team structure. We initially dropped a fair amount of ball and played away from what we had usually practised but we finished a little better.
"Look, it's only Tuesday," Stan said. "I put tonight down to excitement and nerves. That's why they call it training - let's come back on Thursday with the same attitude and we will be flying."
Wise words. I'm a happy man - most of the hard work and running is done for the week.
Wednesday, 10 September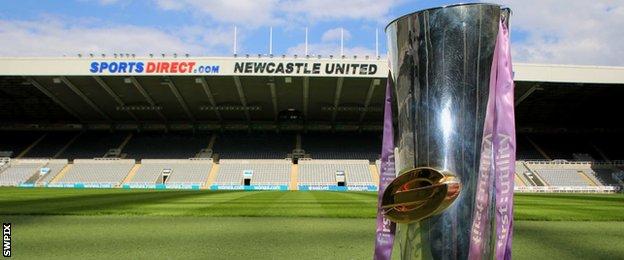 I'm up early again and back out to Kingston Park for another morning of media and promotional activities. This time I'm joined by our tackle-hungry centre Joe Brown, along with a crew from another TV outlet.
It was announced that Newcastle's St James' Park is the next host of the much-anticipated 'Magic Weekend' - what a massive coup for the North East community. You can imagine this subject was high on the agenda.
Just before we left the stadium, we crossed paths with Newcastle Falcons and Gateshead Thunder owner Semore Kurdi.
He passed on his regards and, after a five-minute conversation, you could tell how much it means to him and how much he wants the Thunder to succeed. His backing, along with direction from director Keith Christie, means the club is in good hands.
On the agenda this afternoon was a community club visit with one of our more experienced forwards in Rhys Clarke.
We head off to the Cramlington Rockets to promote the weekend's match and work with their under-16 team ahead of their Grand Final.
What a committed and talented group of boys - working with these young men is probably the most rewarding and enjoyable moment I've had all week.
Thursday, 11 September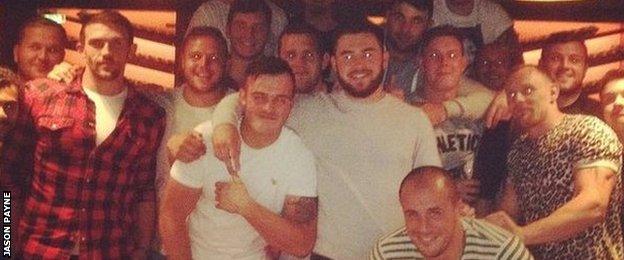 A bit more of a sleep in for me today. However, at this point in the week it is vital that I get my nutrition and hydration in order and prepare my body for what is to become a physical war on Sunday.
Getting your body in order is a tough challenge for the a lot of the lads, so this morning we meet up again and share a meal of chicken and high protein to start the process.
Then we get our gym session out of the way. At this point of the year it's all about maintenance and recovery rather than putting on muscle, so today we focus on light, high-repetition weight training, mixed with a great deal of mobility work and stretching.
Tonight we train again at Kingston Park. It's a state-of-the-art artificial field but takes a little getting used to. Hopefully having a few sessions on it prior to the game will give us an advantage.
This evening's session goes far better than Tuesday and we all seem far more relaxed. We try to replicate Hemel's style of play so we can defend against it and finish off with the structure that suits our team.
Stan is extremely upbeat. "Well done boys, we know what works," he says. "Stay calm, stick to what we do and the result will follow."
Friday, 12 September
Two words sum up today: rest day.
This morning I'm doing something I generally do before most games, which even many of those closest to me don't know about. Usually, a couple of days before most matches I watch a video alone on the team we are about to play in order to see where their strengths lie and if there is potential to expose any weaknesses.
Today affirms what I already know. Hemel are fantastic at their contact and wrestle and their half-back, Jy-mel Coleman, is a great little player who likes to come down my right edge a lot.
That means I will need to make my defence one of my strengths this weekend or run the risk of letting down the team.
I have noticed their defence tend to race off the line extremely fast so, if I'm lucky, I might try to use that to my advantage at some point during Sunday's match.
Saturday, 13 September
Game day eve already.
Now the nerves are really starting to kick in. This morning is our free time (for me to do the housework) but this afternoon is our final team run, which will hopefully give us some confidence heading into the big day.
When I get to training I can just sense the enthusiasm coming out from all of our players. This is the moment that I realise we will be up for the challenge.
Training tonight runs like clockwork; I don't know if I see a dropped ball. Our communication is top notch and this is a good sign. In hindsight we probably should have stayed back and practised our drop goals just in case it comes down to it.
The boys who live in Hull are staying in a hotel here in Newcastle tonight so they don't have to deal with the travel and can focus solely on the job at hand.
As I head home I sit down and gather my thoughts. When you talk about kids having dreams, this is my dream. Tomorrow we are playing on the same size field against the same players, playing the same game we have played since we were little kids. But, for some reason, this feels far bigger than that.
Sunday, 14 September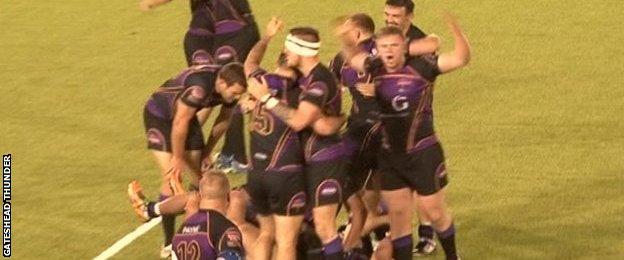 Incredible match - we won 15-14 - and what a result for the Thunder!
We certainly didn't play to our potential. However, a finals win is a finals win and I couldn't be more proud of the boys.
We dug really deep tonight and showed the fighting spirit that has become the basis of our season. If we, as a team, weren't as close as we are, then maybe the result might have been different.
The crowd? Wow. All week I've been talking about preparing to play at Kingston Park but I have to admit that it was almost impossible to prepare yourself for how vibrant and vocal the crowd were.
Tonight we came up against determined opposition who played to the very end - literally - and we learnt a lot which we can take into next week.
The first week of finals is out of the way and now we can dare to dream of what was thought to be impossible.
We have a lot of hard work to do in order to make that a reality, but I know the coaching staff and the boys are more than willing to put in that extra effort.
A massive shout out must go to our coaching staff, especially Stanley Gene and Keith Christie, who have provided us with that new sense of belief.