Keiron Cunningham: St Helens will enjoy 'luxury' week off
Last updated on .From the section Rugby League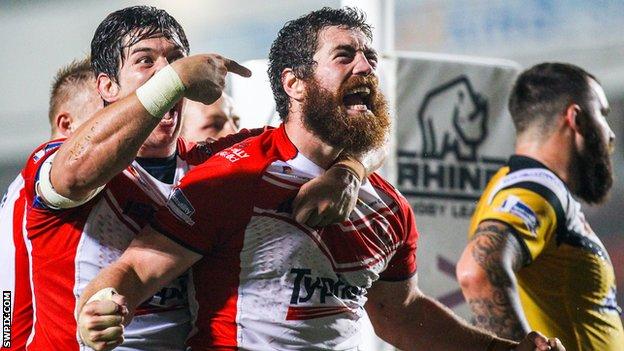 St Helens assistant coach Keiron Cunningham says they will enjoy the "luxury" of a week off before the Super League play-off semi-finals.
Saints will now pick their opponents for a home semi-final with 'Club Call' after the preliminary semi-finals.
"We've got the luxury of not having to rush things. We can sit back and watch a bit of rugby now," said Cunningham.
"It's nice us and Wigan sat there waiting and we'll be watching the rest.
"We've got to make some type of decision, or the chairman has to make a decision."
What set St Helens apart from the rest?
St Helens were the only side in the top 12 not to record a draw this season, winning 19 matches and losing just eight
Wigan Warriors and Castleford Tigers both scored more points than St Helens, while Warrington Wolves and Leeds Rhinos boasted tighter defences
St Helens' 19 wins was the most of any team in the division
Saints' hooker James Roby was the 'top tackler' in the league this season, with a total of 1,054
Saints did not have the week off during last season's play-offs and were beaten 11-10 by Leeds Rhinos during the preliminary semi-final week.
The club are looking to reach their first Grand Final since 2011, but have not won the competition since 2006.
After hooker James Roby scored twice against the Tigers in their last match, Cunningham, who played at hooker during his career, believes they have a special talent in the England international.
"He's been brilliant," he told BBC Radio Merseyside. "Daryl Clark [of Castleford] is a great nine but he can't play 80 minutes.
"I'll give you an example - for the last two weeks, against Warrington he made 63 tackles and against Huddersfield he made 65 tackles.
"He's then carrying the ball for over 200 metres. A lot of people don't understand stats but even your average nines out there makes 20-odd tackles a game and can't carry the ball for over 100 metres.
"He's absolutely immense and what he does for this side - without him we'd really, really struggle."