Phil Joseph: Widnes Vikings prop to train as boxer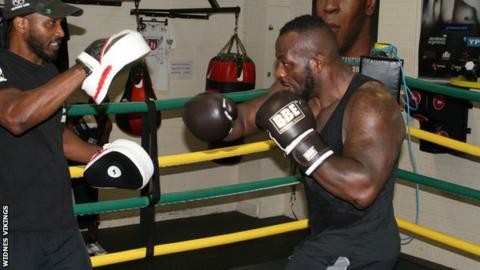 Widnes Vikings prop Phil Joseph has taken his first steps to becoming a professional boxer.
The 29-year-old had been using boxing alongside his regular training when his potential was spotted by a local gym.
Joseph will spend the off-season training at the gym in a bid to make his professional boxing debut.
"I must stress to the fans that my rugby league is the priority and I'll be doing everything in the pre-season as I normally would," said Joseph.
"Once the season starts again my boxing will be on the back burner, but I'll be returning to it as it's something I enjoy."
Joseph had spells with Huddersfield, Hull KR, Halifax, Oldham Roughyeds, Swinton and Bradford before moving to Widnes.
Oliver Harrison, who will be training Joseph, said: "Phil has got a lot of potential. I'm excited working with him.
"I'm hoping to have him boxing in a couple of months time. I'm not sure when he will be fighting, whether that be six weeks, two months or before Christmas."