London Broncos: Coach Joey Grima prepared for new era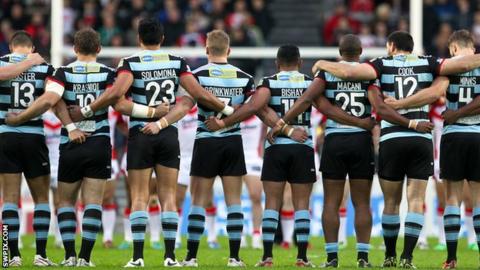 London Broncos head coach Joey Grima does not think results this season will affect his young squad in the Championship next year.
The Broncos only won one game as they were relegated from Super League.
"Us having one win this year and not being in the best form will not really impact on them," Grima told BBC London.
"All the younger players will benefit massively from being in a senior programme. They know know what it takes and what they will come up against."
He continued: "They can go away understanding what is required and pre-season will put them in good stead for playing in the Championship."
Grima, who was appointed Broncos coach in May, described the Championship as "a huge unknown" for him personally.
However the Australian has already recruited several players with Championship experience, as well as appointing Sheffield Eagles player-coach Andrew Henderson as his assistant.
"Andrew Henderson's understanding of the environment, where we are going and the situations is going to be paramount to the success of us next year. He is monumentally important to how we plan for the season," said Grima.
"If we think we are going to all these clubs and get two points, we will get a rude shock.
"Whilst the competition may not be as fast, it will certainly be as physical. We need to make sure we combat that with the right type of players."
London Broncos head coach Joey Grima:
"David Hughes has been incredibly supportive, as has our general manager, of the direction I want to take the club. It's my wishes that I leave the club with a happy and progressive legacy."
Grima is also working on developing the Broncos' strategy off the field in order to build stronger foundations following a series of name and ground changes in the club's 34-year history.
The Broncos are currently playing at The Hive, the home of non-league Barnet FC, and are set to remain there for another year.
"Over the last decade we have had a lot of change and lost a lot of support base," he said.
"We are trying to work out what the best plan is, where we can have a headquarters for a longer period of time, rather than a year-by-year or two-year plan. It is certainly something that is in motion at the moment.
"David Hughes [Broncos owner] has been incredibly supportive, as has our general manager, of the direction I want to take the club. It's my wishes that I leave the club with a happy and progressive legacy."
Grima believes he has the full support of Hughes in his bid to re-establish the side.
"He sees the next two years as a critical stage of the London Broncos franchise," Grima said.
"The fact he has given his assurance that we are going to be full-time and we will use the entire cap suggests how serious and important the next 12 to 14 months is for the Broncos.
"We need to overhaul the whole structure; the academy, the way we recruit, the way we recruit from within, the player pathway and the identification structure and the coaching philosophy at a young age."
As part of their restructuring, former Broncos head coach Rob Powell will be assisting the club as their new head of youth.
The 34-year-old was in charge of the Super League side between November 2010 and July 2012, and has replaced Darren Higgins, who has left to take a job at Castleford Tigers.
Powell will also continue to coach amateur side Medway Dragons.
"You can tell by what Joey is trying to do that things are moving back in the right direction again," he said.
"It fitted in with me to take a role back at the club. I think it's such an important part of the club and it's really important we get it right."