Todd Carney: RFL agrees to register Catalan Dragons stand-off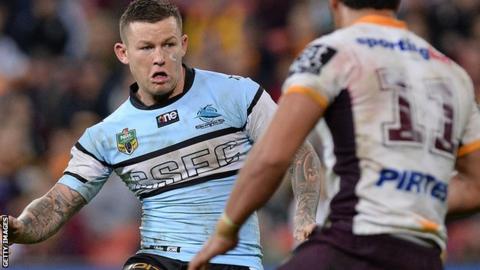 The Rugby Football League has conditionally agreed to register Australian stand-off Todd Carney, who will join Catalan Dragons in 2015.
The 28-year-old's three-year deal with the Dragons, who lost to St Helens in the play-off semi-finals on Thursday, had been subject to RFL approval.
The decision was taken following a meeting of the RFL's board on Monday.
Carney was sacked by NRL side Cronulla Sharks in June after he appeared to be photographed committing a lewd act.
The former Australia half-back, who was named international player of the year in 2010, had previously been dismissed by Canberra Raiders in 2008 and Sydney Roosters in 2011 for breaches of discipline.
In a statement released on Saturday, the RFL said his registration would be accepted "subject to the club and Todd Carney agreeing to a series of conditions specifically designed to address the player's behaviour and assist with his rehabilitation".
It continued: "The conditions include the placing of a £50,000 bond, which will be payable should Todd Carney breach RFL Operational Rules or be convicted of a criminal act.
"The player will also be expected to participate in and complete a player welfare programme recommended by the RFL's Welfare Director.
"The bond will be forfeited, and the registration possibly revoked, should the player fail to complete his welfare programme, be found guilty of misconduct under the Operational Rules (other than on-field misconduct), be found guilty by the relevant authorities in any jurisdiction with a criminal offence and/or be found guilty of any breach of the RFL's Anti-Doping Regulations."