Grand Final: Ben Flower faces RFL tribunal on Tuesday over punch
Last updated on .From the section Rugby League
Wigan's Wales prop Ben Flower faces a minimum eight-game ban after twice punching St Helens' Lance Hohaia in the Super League Grand Final.
Flower, 26, was sent off after two minutes for punching Hohaia to the ground before then landing a second blow to the face of his prone opponent.
Both men have been charged by the Rugby Football League - Hohaia is accused of striking Flower with his forearm.
Police are looking into the incident but have received no public complaints.
However, they will continue to liaise with relevant parties - including the Rugby Football League, the Criminal Prosecution Service and St Helens - before deciding on a course of action.
Saints went on to win the Super League title with a 14-6 win over 12-man Wigan.
An RFL spokesman said it would be up to 31-year-old Hohaia, who has said he holds no grudge against Flower, and St Helens to decide whether to pursue legal action.
The case was considered as normal by a match review panel on Monday and Flower has been charged with a Grade F offence - the most serious in the sport's disciplinary rules - of "violent and aggressive punching" and "punching an off-guard opponent".
The offence carries a minimum eight-match ban, or a ban based on time, and Flower - who has since apologised - will appear before an independent disciplinary tribunal in Leeds on Tuesday evening.
Former Great Britain international and BBC match summariser Jonathan Davies:
"It was absolutely disgraceful. Everybody agrees with that. I think even Ben Flower agrees with that. Unfortunately, it happens in the game. But it opens up a can of worms if the police get involved because then you could have cases like this from any sport, on a Saturday morning from any age. People who haven't been involved on a rugby field can't understand the emotion and controlling that on the big stage."
New Zealander Hohaia has been charged with a Grade B offence, which carries a ban of between one and two matches. He has until 11:00 BST on Tuesday to submit an early guilty plea.
RFL chief operating officer Ralph Rimmer told BBC Radio 5 live: "We have some solid processes available. We have highly experienced members on the panels, who deal with incidents like this on a weekly basis. It is a tried and tested route and we all have confidence in it."
Wigan owner Ian Lenagan echoed those sentiments, adding that the Warriors would take further action if required.
"Such activity is unacceptable," said Lenagan. "We don't condone it, we don't accept it, it is not something that is part of rugby league and there are no excuses for it.
"As far as authorities are concerned, there are two higher authorities than Wigan Rugby League Club - the RFL disciplinary committee and the police.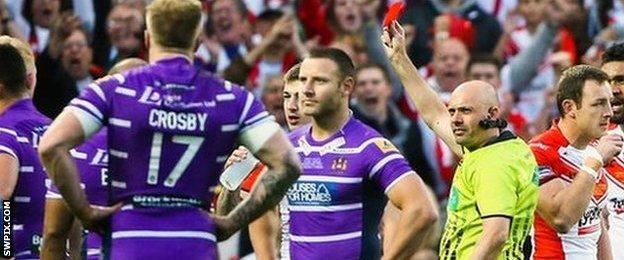 "We take a view that those authorities know more about this than we do and can be more objective than we can be."
Precedents have been set in other sports - notably football - of police taking action over events that occur during matches.
Then Newcastle United midfielder Lee Bowyer was fined £600 and ordered to pay £1,000 costs following an on-pitch fight with team-mate Kieron Dyer at St James' Park in April, 2005.
Bowyer pleaded guilty at Newcastle magistrates court to using threatening behaviour.
Both players were sent off and Bowyer was banned for seven games and fined £30,000 by the Football Association.