Four Nations: Learning England can beat 'vulnerable' Australia
Last updated on .From the section Rugby League
"We had to dig ourselves out of some dark places. It was a real tough game but a good win for us."
The words of England coach Steve McNamara after a tense 32-26 win against Samoa in the opening match of their Four Nations campaign.
McNamara's men were expected to beat the Samoans, who are described as the 'fourth nation' behind the heavyweight trio of Australia, New Zealand and England.
Former skippers Jamie Peacock and Kevin Sinfield, along with ex-New Zealand half-back Robbie Hunter-Paul analyse England's performance and assess how they can beat injury-hit Australia next weekend.
The world champions were beaten 30-12 by the Kiwis, meaning England know a win in Melbourne will put them on the verge of a place in the final.
Positives from the narrow win over Samoa?
Jamie Peacock: "England got two points from the game - that was always the key.
"England had a good kicking game and when they got inside the Samoa 20-metre line they looked incisive with their attacking plays. They also scored tries from kicks which is something England have struggled with previously.
What is the Four Nations?
The 2014 tournament is the fourth edition of the Four Nations and sees Australia, New Zealand, England and Samoa taking part.
France, Papua New Guinea and Wales featured alongside the 'big three' in previous editions. Samoa secured their place by beating Fiji in a play-off.
The teams play each other once in the pool stage with the top two nations going through to the final on 15 November.
Australia beat England in the 2009 and 2011 finals, but lost to New Zealand in the 2010 showpiece.
"The two hookers - Josh Hodgson and Daryl Clark - were the pick of England's debutants - they fitted in seamlessly. Josh and Daryl rolling around is a good combination because hooker is a role that you can't play for 80 minutes at Test level. They have two different styles of plays and brought two different qualities to the team."
Kevin Sinfield: "It was a good win because the first game is always difficult. They only had 10 days' preparation and you could come back and say 'well everyone else has only had 10 days too'.
"But nobody else had to go to other side of the world, get over jetlag and get ready for a game against the 'fourth nation'.
"England always play the fourth nation first and in that game they've thrown everything at England, who are a huge scalp. The performance of that fourth nation tends to decrease as the weeks go on.
"England will only improve, they will be better for having a run out, and will acclimatise more."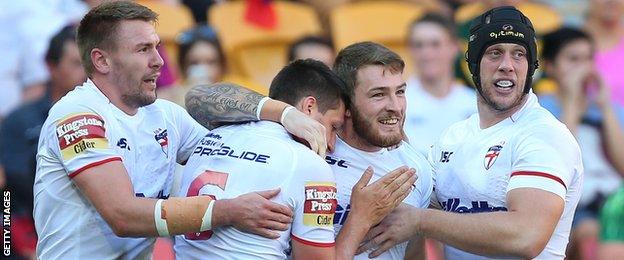 Robbie Hunter-Paul: "The fact that they underperformed is a positive - because there is still room for improvement.
"They handed over a lot of ball so if they respect the ball against Australia, and control it better, they could do some real damage.
"When they did that against Samoa, especially in the first half, they created a lot of space for that exciting dummy-half pairing of Hodgson and Clark.
"All their debutants did well. It was a great opportunity to cut their teeth at international level - but not against Australia or New Zealand."
Where must England improve?
Peacock: "The biggest negative was England's poor ball control. In 2001, Australian coach David Waite took over the Great Britain set up and, in our plan to beat Australia, we were looking at 95% set completions coming out of our own half. That means one error in your own half for 80 minutes. England were well into double figures against Samoa.
"When you lose the ball in your own half against Australia you don't just have to make six tackles, they build six tackles into 12 tackles or into 18 tackles. All of sudden you have to absorb a lot of pressure and it takes a lot of energy out of the tank for when you have the ball."
Sinfield: "England coughed up the ball too much. If they do that against Australia they will make them pay for it. England kicked pretty well and defended pretty well so they must get to the end of their sets, put some high balls in and around that Australian try line and compete for them."
Remaining Four Nations fixtures
1 November:
New Zealand v Samoa (Whangarei, New Zealand)
2 November:
Australia v England (Melbourne, Australia)
8 November:
New Zealand v England (Dunedin, New Zealand)
9 November:
Australia v Samoa (Wollongong, Australia)
15 November:
Final (Wellington, New Zealand)
Hunter-Paul: "They need to be more selective with kicking game - I thought they were quite flat. They need to be more attacking with their offensive kicking when it gets to the last play, they need to measure those kicks more and chase down in greater numbers. We saw a couple of tries scored from midfield bombs but the talented Australian backs will be more secure under the high ball."
Peacock: "I'd like to see Catalan Dragons second rower Elliot Whitehead in the team. Whitehead is a proven try scorer and he can sniff them out. At Test level, those players can just find the tries that you need.
Sinfield: "The backs pick themselves at this moment in time - they are very strong. I'd maybe start Chris Hill and bring the two big Burgess boys - George and Tom - off the bench after 15-20 minutes and let them rip into the Aussies. They could have a big impact against tiring forwards."
How can England exploit a depleted Australia?
Sinfield: "England will have learned from New Zealand's win that injury-hit Australia are vulnerable. England's pack is capable of being dominant and making inroads. They can turn some ball over on their terms rather than Australia pinning them in.
"Australia have been weakened by the loss of two players in particular - forward Paul Gallen and half-back Johnathan Thurston. Gallen, in many ways, is the pack leader, the guy who takes the tough carry and does a lot of defensive work. Thurston is the man who dictates play and his combination with Greg Inglis, Cameron Smith and Cooper Cronk has been fantastic. They missed him against New Zealand."
Hunter-Paul: "By using their power up front. That was one thing which was exposed by New Zealand - they kept bashing holes in the Australia line. That's something I've not seen before.
"And arguably the English pack is bigger. They have got Sean O'Loughlin coming back from injury, in addition to James Graham and the Burgess boys, who have terrorised NRL defences. Those forwards always keep defences thinking and that's something England need to anchor into."
Are the world champions looking vulnerable?
Peacock: "Australia have been very dominant in the international game since 2006 - when Queensland began their run of eight State of Origins wins in a row. That's no coincidence and it is because they have had that spine of Smith, Thurston, Slater, Inglis and Cronk.
"Inglis went off against New Zealand, and we don't know whether he will be back, so that could only leave Smith and Cronk available for the England game.
"At this point they are quite vulnerable. Throw other missing players like Jarryd Hayne and Paul Gallen into the mix and the theory that they've got lots of strength in depth is going to be tested.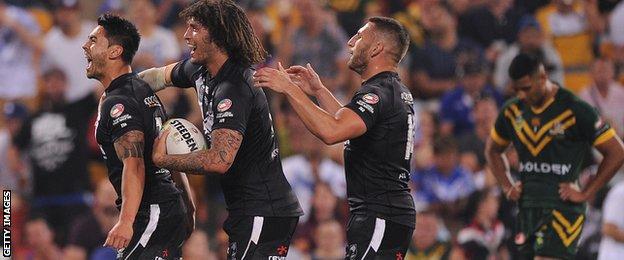 "Smith, Thurston and Slater are the ones with plenty Origin experience and have won lots of games for Queensland. This year we've seen Queensland get beat by New South Wales - is that an omen for England to beat Australia? Maybe."
Hunter-Paul: "Australia are missing a bit of punch. There's also a bit of disassociation with one another defensively. They seemed to be working independently of one another against New Zealand, trying to deal with what was coming on a one-on-one basis.
"Australian teams in the past have tackled in packs, controlled the play the ball, and that's where most teams get strangled.
"Australia's confidence will have taken a knock by the defeat. England have a real opportunity."