Four Nations: England 'hard done by' in Australia defeat
Last updated on .From the section Rugby League
"It was one of the most important moments in England rugby league international history. It was a try - 100%."
It left England needing to beat New Zealand by 10 points to guarantee reaching the Four Nations final.
That it is not as simple as it sounds. New Zealand, who dramatically beat England in last year's World Cup semi-final, have a 100% record in the tournament after beating Australia and Samoa in their opening two games.
Wilkin and former England international Paul Sculthorpe, along with ex-New Zealand half-back Robbie Hunter-Paul, analyse England's performance against the Kangaroos and assess whether they can reach the final on 15 November.
Should Ryan Hall's 'try' have stood?
Hall's try was not given by video referee Bernard Sutton. The England winger got on the end of Liam Farrell's kick and seemed to touch down but Sutton ruled the ball had bounced up on to his fingers, meaning Hall had not applied downward pressure.
Wilkin: "The referee said the ball was on the upward and that is what has forced the finger up but I disagree with him. At full speed it does not look like a try but when you slow it down it does.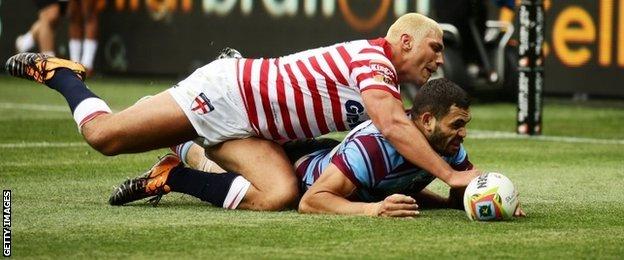 "But as a player there's nothing you can do. In rugby what sets us apart is that we just get on with it. There will be no whinging to the referee. But the lads will think that it is a difficult decision to take."
Sculthorpe: "England have been hard done by. Ryan Hall's touching the ball on the way down - that's grounded. The ball is on the floor, you can see the finger go up - there is pressure on the ball. As a player you're watching the replay and you have to think you've scored. Some days those go for you, sometimes they don't. Today it didn't go for England."
Hunter-Paul: "I think Hall is intentionally trying to ground the ball, that's the only reason why he has thrown his arm forward. And by that rationale the ball is going down and the little finger is on it. That is a try. The fact Ryan Hall has reached forward is to try to get a hand on the ball."
Did England let Australia off the hook?
Sculthorpe: "Yes. With the way they played in the first half, England were convincingly the best team and led 12-4 at the break. But fair credit to Australia they came back and changed the way they played after the break by taking off one of the big guys and bringing on Ben Hunt. Australia speeded the play-the-ball up and England stopped doing what they did best, playing quick and going in numbers. You could see the momentum change in the game.
"We have been here several times before - England playing well but Australia nicking a win. England were in front and shut up shop. It took until the last five minutes for England to get back playing again and get on the front foot.
"England will go back to their training camp, look back at the video and regret switching off. They knew the game was there for the taking."
Four Nations results/fixtures
25 October:
England 32-26 Samoa
25 October:
Australia 12-30 New Zealand
1 November:
New Zealand 14-12 Samoa
2 November:
Australia 16-12 England
8 November:
New Zealand v England (Dunedin, New Zealand)
9 November:
Australia v Samoa (Wollongong, Australia)
15 November:
Final (Wellington, New Zealand)
Hunter-Paul: "In that opening 40 minutes England were moving the ball around and moving the Australia defence around. They were tiring out that Kangaroos defence, but in the second half they just tried to punch holes and play very safe. You can't do that against Australia."
Wilkin: "Australia had the majority of possession in the second half - that was the difference. Australia controlled the game, got on the front foot, chose the right kicks and slowed the game down at the right times.
"That allowed Australia to strangle England. I've played for England when Australia are strangling you and it's nearly impossible to change."
Can England beat New Zealand and reach the final?
Sculthorpe: "Yes they can. They will take a lot of confidence from Sunday's performance because they know Australia were there for the taking. They've got to do what they did well against the Kangaroos - play quick on the Kiwis and pressure Shaun Johnson. He's their talisman and England must stop him playing.
"Australia have always been the number one team in the world and the way England shut up shop maybe showed there is a mental block playing against them. That's something they've never had against the Kiwis."
What is the Four Nations?
The 2014 tournament is the fourth edition of the Four Nations and sees Australia, New Zealand, England and Samoa taking part.
France, Papua New Guinea and Wales featured alongside the 'big three' in previous editions. Samoa secured their place by beating Fiji in a play-off.
The teams play each other once in the pool stage with the top two nations going through to the final on 15 November.
Australia beat England in the 2009 and 2011 finals, but lost to New Zealand in the 2010 showpiece.
Wilkin: "It's going to be difficult because I think New Zealand are the best team in the competition. But of course England can win. England need a complete performance, long gone are days when New Zealand are just a big, robust team with not much structure around them. With Johnson and Kieran Foran they've got best two half-backs in the competition. Stopping their effectiveness is crucial."
Hunter-Paul: "New Zealand are definitely beatable. I think the Samoans proved that in running them so close on Saturday before losing 14-12. New Zealand still have a long way to go before they are the finished article.
"It is more of a daunting task playing Australia on Australian soil than it is playing New Zealand on New Zealand soil. They have been able to scalp New Zealand recently and that will be a big bonus for them."
Will England's players be thinking about a 10-point winning margin?
Wilkin: "The key players will have to be aware of it because should it come to it, they need to know where they stand. First and foremost, Steve McNamara will be talking about performance but they will have strategies in place should it be a tight game."
Sculthorpe: "Last year's 20-18 World Cup semi-final defeat by the Kiwis was heartbreaking. I wouldn't say revenge is on the players' minds, but it will have taught them that they are capable of beating the Kiwis. That can spur them on."
Hunter-Paul: "At international level you don't have revenge on your mind. The class of athlete that you are going up against, the dynamic of ability out there, puts a different swing on the match.
"The World Cup semi-final will play a part and England will be desperate to right the wrongs of the Australia match."
England v New Zealand, last five results
23 November 2013:
New Zealand 20-18 England
12 November 2012:
England 28-6 New Zealand
23 October 2010:
New Zealand 24-10 England
7 November 2009:
England 20-12 New Zealand
15 November 2008:
England 22-36 New Zealand