Four Nations: Beaten England can 'flower into something special'
Last updated on .From the section Rugby League
If you walked into the England dressing room moments after their 16-14 defeat by New Zealand, you would immediately be swamped by a feeling of frustration lingering in the air.
That's the view of former England skipper Jamie Peacock as Steve McNamara's side stare Four Nations elimination in the face.
England dominated the Kiwis for large periods without having the killer instinct to translate that into points. And it was the same story against Australia just six days earlier.
Those narrow defeats mean England will not meet the Kiwis again in next Saturday's final - unless Samoa beat Australia by eight points or less on Sunday.
Leeds Rhinos forward Peacock, former England international Jon Wilkin and ex-New Zealand half-back Robbie Hunter-Paul analyse England's performance in the Four Nations and assess what the future holds between now until the 2017 World Cup.
Positives from New Zealand defeat?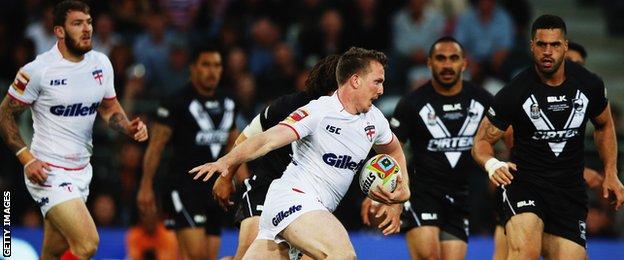 Peacock: "England created numerous opportunities to score but they weren't clinical enough. It's been a long time since they have played down under and not looked out of place. England have been competitive and not just hanging on in games, they have been dominating games without winning."
Hunter-Paul: "England played for the full 80 minutes against the Kiwis - moving the ball, moving in numbers and using those numbers to create space and opportunities. They could have been more clinical with their final passes but I'm extremely optimistic about where this young team is going.
"There's something special about this England squad that we may see flower over the next few years."
Will England feel they should be in the final?
Peacock: "If England don't get to the final then they will feel it is a missed opportunity.
"There will be a feeling of frustration inside that England changing room. Frustration because they have not managed to win one of games against Australia or New Zealand when they should have done.
"And, if they don't get there, it will be a final that they will not want to watch because as a player you think 'we should be there, I should be playing in this'. I don't think the players will be sat watching the game in their team hotel - it hurts too much."
Is Steve McNamara's future under scrutiny?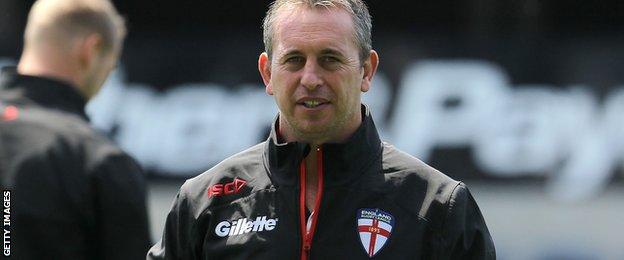 Hunter-Paul: "In the short-term he is the right man. I've garnered a lot of confidence from what Steve has done in this tournament. After last week's defeat by Australia he has responded well. He shook the team up and I liked his game plan. New Zealand and Australia took their opportunities and turned them into points - they were the only differences."
Peacock: "No. I think Steve has done well because England have been in transition. Over the past few years he's lost senior players like myself, Adrian Morley, Gareth Ellis, Keith Senior and Jon Wilkin. And they were still 30 seconds from making a World Cup final last year.
"Since then they've lost the world's best player in Sam Burgess and their captain Kevin Sinfield. But they were a hair's breadth away from beating Australia and New Zealand. They've still looked highly competitive and like they deserve to be in the same arena as Australia and New Zealand. They don't have to go back to the drawing board and reinvent the wheel.
"Steve's made a lot of right decisions and the team is growing. Now the 2015 Autumn home series against New Zealand is a must win for Steve."
What can England learn from this Four Nations?
Wilkin: "As a group you learn to win together. When you're with a group of people for a long time you understand what it takes to win games in pressure situations. Leeds Rhinos have been masters of that for a number of years. They can sense when a game is on a knife edge and tip it in their favour.
"England have not tipped the crucial games in their favour for a long time. It is almost like performance anxiety. England think too much towards the back end of games and try to do things differently."
Four Nations results/fixtures
25 October:
England 32-26 Samoa
25 October:
Australia 12-30 New Zealand
1 November:
New Zealand 14-12 Samoa
2 November:
Australia 16-12 England
8 November:
New Zealand 16-14 England
9 November:
Australia v Samoa (Wollongong, Australia)
15 November:
Final (Wellington, New Zealand)
Peacock: "The more times you're involved in close games, the more on-field battle experience you have, you tend to work out as a player what you need to do to win games. If you're winning by six points with five minutes to play, or if you're six points behind with five to go, you think 'how do we have to play to see this out?'
"It is a learned experience and one which we developed over the years at Leeds. But the older players also have to use their experience to tell the younger players. There's no 'Eureka' moment - you develop a feeling for what needs doing over time."
Hunter-Paul: "Developing that winning experience is about bedding in with the players around you. That comes with a mixture of training, playing and bonding together - you've got to get the balance right. Steve McNamara has done a good job of getting the players to buy into that unified family of England - 'we are Team England'.
"Keeping the crux of the group together allows the players to develop appreciation of one another and things start to become natural and they read each other better. That was the good thing when my brother Henry and I played together for New Zealand - I knew innately when he was going to make a break or put himself in position for an offload. His body language used to change - he used to get a little more excited. So I just headed north because most of time he got a break, put me in and I got all the glory!"
Is the gap closing on Australia/New Zealand?
Peacock: "There is definite progression. I look back to when I was playing at the 2008 World Cup and we were a million miles away from beating Australia and New Zealand. This side isn't. They have progressed to a point where I think they will be winning these close games in the next couple of years. It's the smallest margins separating them and they can get them right."
What is the Four Nations?
The 2014 tournament is the fourth edition of the Four Nations and sees Australia, New Zealand, England and Samoa taking part.
France, Papua New Guinea and Wales featured alongside the 'big three' in previous editions. Samoa secured their place by beating Fiji in a play-off.
The teams play each other once in the pool stage with the top two nations going through to the final on 15 November.
Australia beat England in the 2009 and 2011 finals, but lost to New Zealand in the 2010 showpiece.
Hunter-Paul: "If this tournament has not been proof then I don't know what is. England have done that with a young side, not a team of old heads on their last hurrah. You can't buy a forward pack like England have got. You can have the best full-back and halves in the world but without forwards they can't do a thing. It is a golden era of forwards for England."
Wilkin: "It is but I believe the Australia and New Zealand players are silkier and more skilful in the crucial moments of games. That's what sets the teams apart at the moment."
Can England win the 2017 World Cup?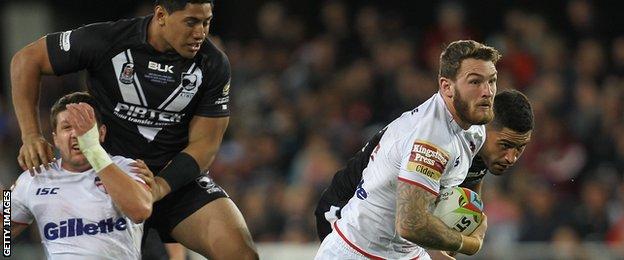 Peacock: "They will be huge contenders if they learn from this experience down under. The majority of the squad are going to be at that World Cup in Australia and New Zealand - most are under 30 now and they will have three years more experience then.
"Players like Sam Tomkins, who now have World Cup and Four Nations experience, need to realise they are now leaders. I remember coming to that point in my career - you realise you're not a junior player any more, you're a senior player. That realisation comes from within yourself and that your role in the team has changed. If you've got the ability to analyse yourself you have the ability to step up and change your behaviour.
"England will also learn from this experience of going on tour down under. It's difficult as an England player there - it's a completely different feel to everything. The pitch, the food, the hotels, the environment, smells - everything is different. And your body and brain has to get used to that."
Hunter-Paul: "I think England are on the right track - and it is exciting. Those, like Daryl Clark and Dan Sarginson, who have made their debuts on this tour have not looked out of place. In fact it is quite the opposite - they have brought the X Factor.
"What they will bring back from the Four Nations is immeasurable. Those will come back knowing they can mix it with the world's best - your mentality as a player changes after that.
"At first you go out there and think 'ooh I'm playing against the big scary Australians'. But, for example, I went down there in my first Test, took a left foot step and split them. Then I thought 'this is the best Australia have got and I've split them'.
"Those things play on your mind and that's the psychology of great players at that level of competition. Once you have set that platform in an international arena it is hard to come back down."