Concussion: Rugby Football League approves law change
Last updated on .From the section Rugby League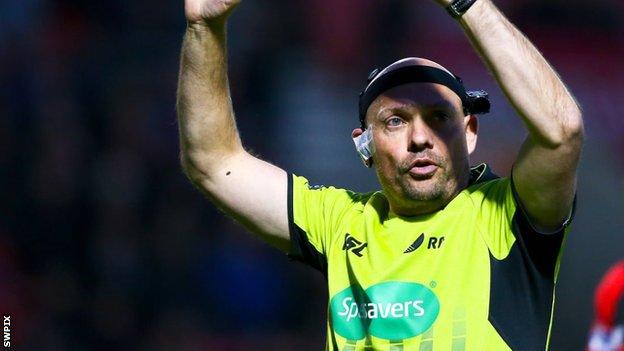 New laws introduced by the Rugby Football League will allow teams a "free" interchange when a player is withdrawn for concussion assessment.
It is hoped the alteration, one of four made by the English game's governing body for 2015, will "safeguard" players by encouraging assessments.
Obstruction laws have been tweaked, so play will now continue unless a team is "materially disadvantaged".
Sin-bin and video referee laws have also been altered.
The on-field official must now signal a decision before referring to the video referee, a system used in Australia's National Rugby League and the recent international Four Nations tournament.
That call is then verified by the video referee, who must find good reason not to back that decision.
Obstruction
Referees are encouraged to look for the line run by players, for example a lead runner must pass through the line without stopping, and avoid contact.
The ball must come to a sweep runner beyond the inside shoulder of a lead runner, and referees must assess depth to the defensive line and impact on that line when judging obstruction from a sweep runner on a player's inside shoulder.
From a defensive perspective, referees must consider whether defenders have misread the play or actively initiated contact.
Referees will now have four rather than seven main areas deemed worthy of sin-binning, when making a decision on whether to penalise a player with a card or place them on report to face retrospective action.
Unsportsmanlike conduct, such as a professional foul or the delaying of a quick 20m restart, dissent, repeated infringements and foul play/dangerous contact are the four guidelines that officials will follow.
The obstruction law has been amended, having proved unpopular last season, with Castleford head coach Daryl Powell a vocal critic and both supporters and players frustrated by calls.
RFL chief executive Nigel Wood, who chairs the Laws Committee, said: "The changes will enhance the matchday experience for players, spectators, coaches and TV viewers alike by making the laws of the game as simple and unambiguous as possible."
The law changes and amendments were approved at a meeting of the Rugby League Council held on 11 December.