Salford owner Marwan Koukash wants England-based NRL team
Last updated on .From the section Rugby League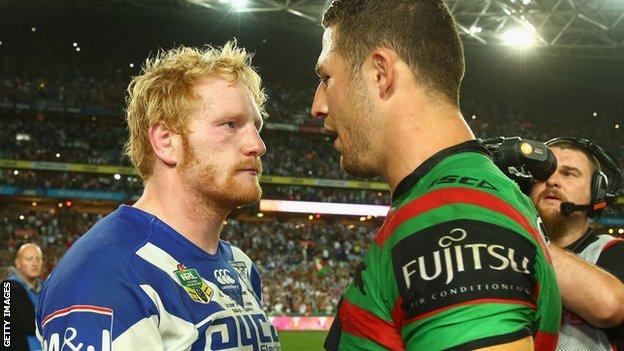 Salford owner Marwan Koukash plans to apply for an England-based franchise in Australia's National Rugby League.
His idea is for half the club's home games to be in England and the rest in places like Las Vegas and Dubai.
Koukash, who aims to promote the sport, said. "There were over 100,000 at the three days of rugby sevens in Dubai. It could have been league or union."
Brisbane and New Zealand are favourite locations for two new clubs if the NRL expands in 2018.
Koukash wants his 'British Bulldogs' proposal to be taken seriously.
"As with any other franchise application, we would have to show the idea was financially viable," he said. "We would also be able to demonstrate what a positive message it would send for rugby league.
"The NRL have already expanded, with the New Zealand Warriors.
"I understand that is only three hours away but the game shouldn't be so short-sighted as to let the additional flying time make a difference."
The NRL is considering whether to add another two sides to its 16-team competition for the 2018 season.
Speaking before the new Super League season starts on Thursday, Koukash also called for the salary cap to be raised beyond its £1.8m limit.
"It is the only way we are going to stop players leaving for the NRL, like Sam Tomkins, or rugby union, like Sam Burgess.
"Owners need to be the ones taking responsibility for clubs not spending more than they can afford."