World Club Series: Can Super League compete with the NRL?
Last updated on .From the section Rugby League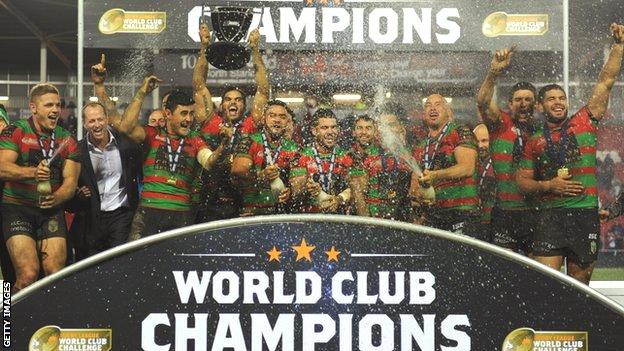 Russell Crowe skipped the Oscars to watch his South Sydney Rabbitohs side clinch the World Club Challenge against St Helens, but was the one-sided contest really worth side-stepping Hollywood's red carpet for?
The annual meeting between the respective champions of Super League and the southern hemisphere National Rugby League was expanded and re-branded for 2015, with six teams competing - the winners of both Grand Finals now joined by four additional clubs, two each from Super League and the NRL.
South Sydney's record 39-0 win over Super League champions Saints in Sunday's World Club Challenge completed an Australian clean sweep of the competition, which attracted a cumulative total of more than 51,000 spectators over three days.
In the other games, Brisbane Broncos beat last year's Super League finalists Wigan Warriors in golden-point extra-time after St George Illawarra overcame Warrington Wolves in a tight opening match at the Halliwell Jones Stadium.
Leeds Rhinos are the only Super League side to get the better of southern hemisphere rivals in the past five years, with the National Rugby League's representatives making easy work of the past two showpiece tournaments.
BBC's Super League Show spoke to major figures after the World Club Series, from four-time World Club Challenge winner Jamie Peacock to South Sydney captain Greg Inglis and Wigan Warriors coach Shaun Wane, about the competition and its importance to Super League clubs.
Why did NRL clubs win all three matches?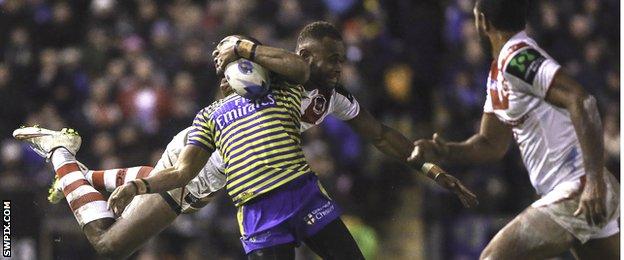 St Helens captain Jon Wilkin: "I thought they played Test match rugby. When I've played for Great Britain or England against the Australians, they played that Test-match style of rugby while we played Super League. It's absolute chalk and cheese. It's difficult to take but it's a lesson for our young guys who have aspirations to go on and play for England."
Leeds Rhinos prop and four-time World Club Challenge winner Jamie Peacock: "One thing you have to look at and take into consideration is the difference in salary caps. We spend nearly £2m on squad talent and they spend nearly £4m - that makes a big difference.
"If you can spend double what another team can - in any walk of life talent goes where the money is and I feel that is where the difference is. I'd like to see a marquee player allowance come in to the game because that will help ease that gap."
Any positives for Super League clubs?
Warrington Wolves head coach Tony Smith: "It was a good experience for us to come up against an Australian team and learn about how you've got to cope with the physicality, the tactics and all that. It's been a great learning curve for us and we'll take plenty from it."
Wigan Warriors coach Shaun Wane: "It shows us a level that they can play at in the NRL and it will do my own team good to play in that sort of game."
Has the expanded World Club Series got a future?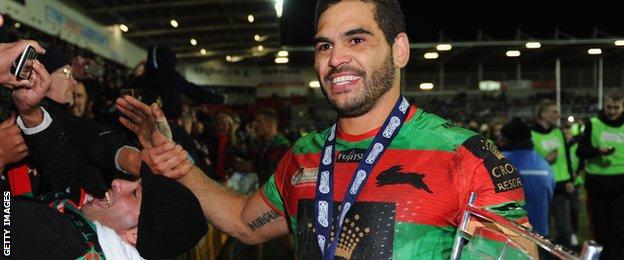 South Sydney Rabbitohs captain Greg Inglis: "I loved it, the whole of England has jumped behind it and I think the world has to. Every single game was a sell out so this should definitely continue. As an Aussie seeing other Aussie teams come over, they all really enjoy it, the travel and experience, especially for the young blokes in the squads."
Smith: "We're pleased and proud to be part of it. We're a club that wants to participate in the World Club Series in the future and that's why we wanted to make it a success. Both teams took it extremely seriously. While it wasn't the prettiest game at certain stages, it was hard-fought, both teams put their bodies on the line and showed how serious we all feel about it.
"We should go away from here saying 'this has got legs and it is going to grow'. When you get crowds and atmospheres like that, it's only good for us. We're really pleased to have had this event at our great club and we want to be participating on the Sunday [as Super League champions in the World Club Challenge] in the future."
Peacock: "The event across the weekend has been great, they have been all been sell-outs. There is still a reason for this competition to go ahead. People in this country want to see the likes of Greg Inglis and the Burgess brothers playing over here, so let's keep it going."
Wigan Warriors scrum-half Matty Smith: "I think it has 100% worked, both [early] games were great spectacles. We came off the wrong side of results, but we are competing. I think it's working and I'd like to see it progress."
Wane: "As far as the concept is concerned, I love it. I'd love to get more teams involved because these are the games I want to be coaching."
You can see highlights of the World Club Series on the Super League Show which is also on BBC iPlayer.