Marwan Koukash: Salford owner interested in Gold Coast Titans
Last updated on .From the section Rugby League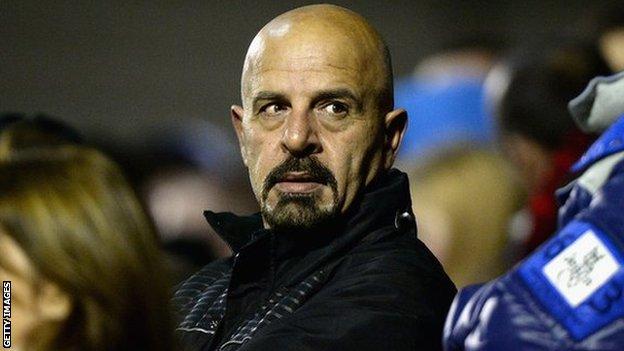 Salford Red Devils owner Marwan Koukash has confirmed his interest in buying a share in Australian National Rugby League side Gold Coast Titans.
Koukash took over Salford, then known as City Reds, in 2013 and has said he would like to own an NRL team as well.
"I'm interested in the NRL and the Gold Coast Titans are owned by the league," he told BBC Radio Manchester.
"When the NRL decides to offload it, I want to be in with a chance of owning that club."
The Titans were placed in voluntary administration in February and their licence handed over to the NRL.
Koukash, who has suggested the possibility of setting up an England-based NRL franchise, told Rugby League Extra he expects to be able to buy a stake in the Titans.
Salford's financial woes
Earlier this month, Marwan Koukash said low attendances are costing the club money, estimating losses of between £15,000 and £20,000 per match if crowds fell below 3,000.
He continued: "So far I have not been successful in finding a team for sale that would give me a majority share.
"But the NRL took over the running of the Titans and from what I understand, sooner or later it will become available."
But Kuwait-born Koukash said any plans to become involved with an Australian club would not have an immediate impact on his role at Salford, who beat Widnes 36-8 on Thursday to go fourth in Super League.
He added: "My family are very keen on living in Australia but that does not mean I will have to water down my interest in Salford.
"I'm not going to own Salford forever, and as soon as the club can stand on its own feet, I would like to hand the ownership to the community."