Kevin Sinfield: Leeds Rhinos skipper leaves league legacy
Last updated on .From the section Rugby League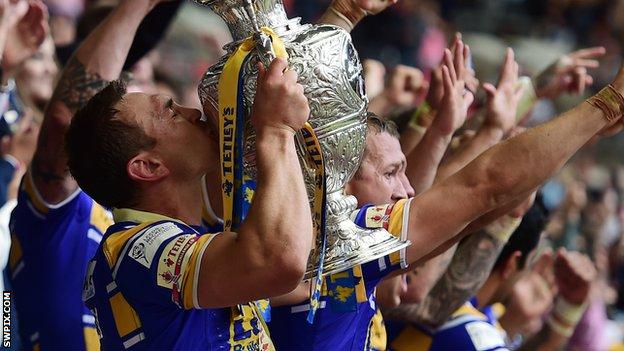 Every metronomic swing of his right boot, every last-ditch tackle, every searing cut-out pass and every gleaming trophy hoisted high into the air has cemented Kevin Sinfield's place in rugby league legend.
With just one club - Leeds Rhinos - Sinfield has won everything there is to win at domestic level, and captained England to within minutes of a home World Cup final in his last international.
The end of the 2015 Super League season will mark the end of an era for the Rhinos captain as he bows out of the sport, taking on a new challenge in the rugby union code with sister club Yorkshire Carnegie.
BBC Sport looks at the components that make up Kevin Sinfield MBE.
Influence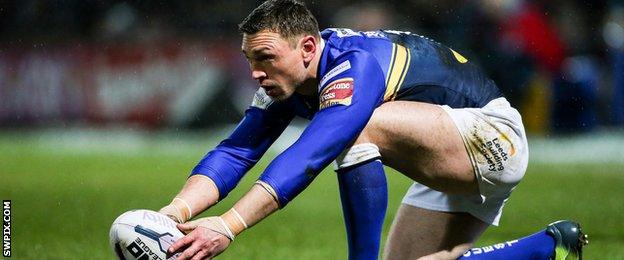 Under Sinfield's leadership, Leeds have become a club synonymous with success and silverware. The years before Sinfield's arrival at Leeds had been lean, but the emergence of players such as Sinfield himself, Rob Burrow, Danny McGuire and Jamie Jones-Buchanan coincided with a golden period for the Headingley club.
Since the 34-year-old was handed the captaincy at the relatively young age of 22 in 2003, Sinfield has led Leeds to six Grand Final wins, three World Club Challenges and two League Leaders' Shields - as well as last season's Challenge Cup final success against Castleford. His leadership earned the respect of players such as Great Britain captain Jamie Peacock and former Australia and New South Wales skipper Danny Buderus - both of whom played under him.
His remarkable scoring record leaves him just three short of 4,000 career points, a total which puts the Oldham-born stand-off fourth in the all-time rugby league points scorers list, and tops the club's own individual points list.
Whether it was climbing off the turf following a heavy tackle to inspire the 2012 Grand Final win against Warrington, calmly racking up the points in that season's play-off semi-final against Wigan, or booking a 2011 Challenge Cup final place with a nerveless golden-point penalty goal against Castleford, Sinfield's ice-cool mentality has proved vital in big games for the Rhinos.
Perhaps his finest individual sporting moment was winning the 2012 Golden Boot for the world's best player, pipping international stars such as Cameron Smith, Cooper Cronk and compatriot Sam Tomkins to the prize - only the fourth Englishman to achieve that honour.
"When Kevin signed his last five-year contract in 2012 it was with the understanding that he could decide to leave at the end of any season, unrestricted, provided we were notified at the start of the season so we could begin to plan for the future," said chief executive Gary Hetherington.
"If any player in the history of our club deserves the right to choose when he moves on to the next stage of his career, it is Kevin Sinfield."
Adaptability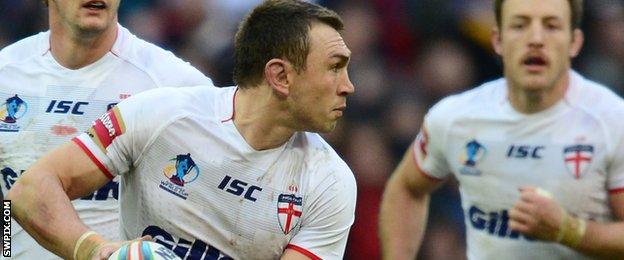 The former England skipper's adaptability and versatility have been vital as he matured from a ball-playing lock to playmaking half-back for club and country.
Learning to dictate play and guide the team around the pitch has been the product of effort and the willingness to take on a challenge.
Rugby league has been Sinfield's life since joining Leeds as a 13-year-old, but he remains open to the challenge of a new code.
"I think it'll be really tough but that's part of the challenge and why I'm going," Sinfield told BBC Radio Leeds.
"We look at the number of league players who have switched over and that transition is difficult.
"Part of the reason I wanted to come to Yorkshire Carnegie is that I know the club and I know the support network that's in place. I think that's really important and I know a lot of the players. I don't have to relocate. It's just the rugby that's changing and I think without having to deal with stuff that is on the periphery to rugby will help me."
The battle for number 10
Unlike most code-switching league to union players, Kevin Sinfield is hopeful of retaining a place in the halves having built his career in the position.
"I think that's the obvious one and that's where I'd like to play," Sinfield said. "I don't think I'm cut out for a game in the forwards with them.
"I think number 10 is most suited to the game I play with the Rhinos and managing the game and getting the team around the field is something that I try to do.
"I understand the challenges that come with a new sport but, like I said, that's part of it for me. For a 34-year-old to get a challenge like the one I have in front of me is unbelievable."
Loyalty, humility, unselfishness
Sinfield will end his rugby league career, or at least the first chapter of it, as a one-club player having forged the tightest of bonds with Leeds.
That loyalty is backed up by a humility that belies his achievements, a down-to-earth personality in a tough sport.
Never one to court controversy, last season's Super League sending-off for head-butting Castleford's Luke Dorn was the first of his otherwise exemplary career and it is that character and dedication to the sport that brought an MBE in 2014.
There are some similarities between Sinfield's decision to retire from England duty last October, and the decision now.
Having been involved at international level since his England debut in 2000, the Lancastrian stepped down to give younger talents such as Gareth Widdop the chance to impress.
Now, with Liam Sutcliffe seemingly the incumbent playmaker, Sinfield has unselfishly made way for 2016, particularly since completing his personal trophy jigsaw with the Challenge Cup last term.
"It probably was a decent bearing," Sinfield said of the cup success. "It certainly had a bearing on my international career with England rugby league.
"Having chased so hard for it, not long afterwards I came to the conclusion that perhaps it was time to face a new challenge and really test myself before I have to hang my boots up."
Respected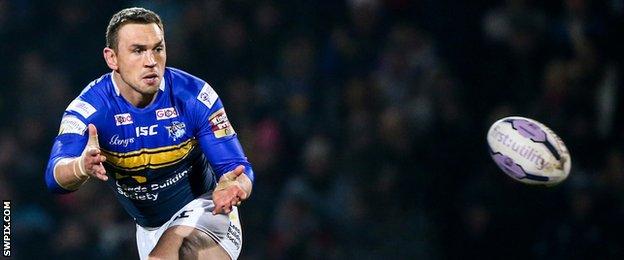 He is TV presenter Claire Balding's self-professed favourite sportsman - the type of admiration which has made Sinfield a mainstream name - and a huge fan favourite at Leeds, who bestowed him with the title "Sir Kev" as testimony to their devotion.
Within the sport, there is equal respect and appreciation for the Rhinos playmaker from team-mates and peers alike:
Hull FC captain Gareth Ellis, former England and Leeds team-mate: "He's been a fantastic leader and even more a great professional. When I joined Leeds I saw how to be a professional rugby league player and Kevin was at the head of that. Watching him - how he conducted himself off the field, how he trained, how he ate - it rubbed off on me."
New Zealand Warriors full-back Sam Tomkins, former England team-mate: "He's one of the players who can guide you through big games. You can have all the flair, passion and enthusiastic youngsters and he never fails to deliver."
Leeds forward Carl Ablett: "There's no better bloke to lead a team. He never gets flustered, he just directs us around the field without getting his head in too much of a muddle."
The future for Leeds - and Sir Kev?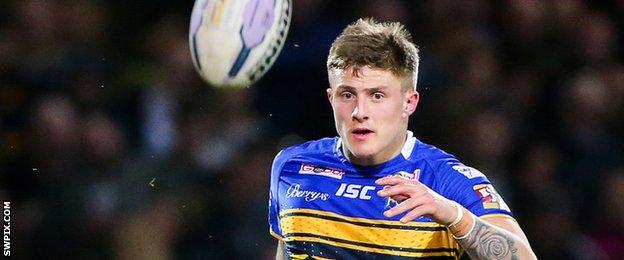 Sutcliffe's emergence, nurtured by Sinfield and his half-back partner Danny McGuire over the last two seasons, suggests Leeds are in a good place for 2016 onwards.
The 20-year-old has shown increasing maturity, notably while standing in for Sinfield in recent matches against Wigan and Catalans Dragons.
"We've been planning for this type of scenario for a number of years," head coach Brian McDermott said. "We probably didn't expect it to come this season but once you get over the initial surprise and shock, it's something we're in good shape for.
"The Rhinos have been known for blooding youngsters for a number of years, but we've been specifically blooding juniors, in particular Liam Sutcliffe, for this type of day."
Sinfield's own career is in his own hands, and the fresh challenge posed by union could also extend his career as well as reinvigorate his mind.
"This decision was made on trying to play Premiership rugby," he said. "I understand the ambition that is in place here and wanting to get the club [Carnegie] back to the Premiership and that is what my aim and target is.
"I look forward to helping Yorkshire Carnegie do that as well as we can and hopefully we achieve that."
Additional reporting by BBC Radio Leeds' James Deighton.