Zak Hardaker: Leeds Rhinos full-back to attend anger management
Last updated on .From the section Rugby League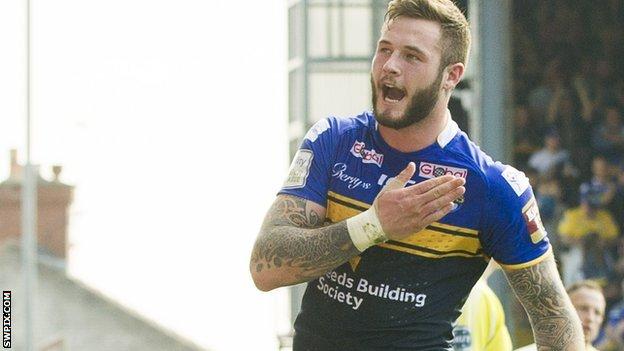 Leeds Rhinos full-back Zak Hardaker will commit to weekly volunteer work and attend an anger management course following an internal investigation into an assault on a student.
England international Hardaker, 23, who last month paid £200 compensation and wrote an apology letter to the student, has also been fined a month's wages.
The club statement said the forfeited wages will be donated to a charity.
He will work with the Leeds Rhinos Foundation up to 20 hours a week.
Rhinos chief executive Gary Hetherington said: "Zak is full of passion and enthusiasm and has many qualities that are to be admired in a young player but a small part of him has led to problems and this has to be addressed, not only for the image of the game but most importantly for Zak's own well being and his ability to fulfil his potential.
Hardaker in the headlines
Hardaker was fined and warned by Leeds for breaching their code of conduct after being thrown out of England's World Cup squad in 2013 for misconduct.
He also served a five-match ban last June after being found guilty of making homophobic comments during a game against Warrington.
"We have passed the point of telling him what he has to do, however, for the first time Zak has admitted to us and, more importantly to himself, that he has an issue with aspects of his lifestyle which he wants to improve.
"We have listened to what he has committed to do for himself and we will support him."
The club have fined and given a written warning to Elliot Minchella for his involvement in the incident while Rob Mulhern, Josh Walters and Ash Handley have each received a fine and a verbal warning.