Gareth Hock: Leigh forward 'liable' if he faces Salford
Last updated on .From the section Rugby League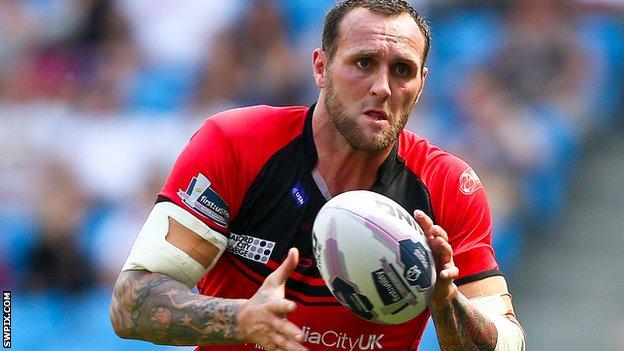 Leigh forward Gareth Hock would be subject to legal proceedings if he plays against former club Salford in the Challenge Cup on 18 April, says Red Devils chief executive Martin Vickers.
The second-row left the Red Devils after receiving a six-game ban.
"The club, in terminating Gareth's arrangement with Salford entered a settlement agreement, known as a compromise agreement," said Vickers.
"This meant he wouldn't be able to play competitively against Salford until December 2016."
Salford owner Marwan Koukash had already stated a deal was in place so Hock could not face his former team.
"We had no knowledge of Gareth's future plans," added Vickers to BBC Radio Manchester. "We parted amicably and as part of the agreement he does receive some payments from the club moving forward.
"If he chooses to breech that agreement it would lead to a legal issue between Salford Red Devils and Gareth.
"If the player chooses to play competitively against us, it's him who would be liable."
The former England, Wigan and Widnes second-row made his debut for Leigh in the Championship win over Workington as the Centurions extended their unbeaten run to 19 games.
And Leigh director of rugby Derek Beaumont told BBC Radio Manchester that he had no knowledge of Hock's agreement with Salford.
"It was all very hurried in signing him and he's signed a contract with us that doesn't have any exclusions in it that's been accepted by the RFL," he said.
"Really, Gareth's stuck between the devil and the deep blue sea. Does he break a compromise agreement with Salford and play against them or does he break his contract with Leigh and refuse to play in a fixture that he's selected in?
"He's got to be available to play in all games he's deemed fit to play in. There's no issue with Gareth, he wants to play the game and he can't understand why the club are including such a clause.
"At the moment we have solicitors dealing with it, we're happy to play Gareth."