Stuart Pearce: Rugby league 'deserves greater profile'
Last updated on .From the section Rugby League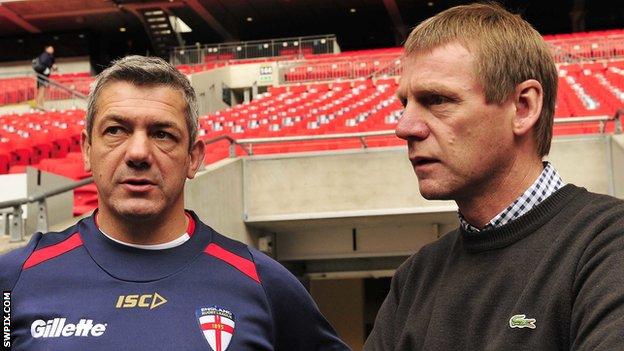 Rugby league deserves a greater profile beyond its traditional heartlands, according to former England Under-21s football manager Stuart Pearce.
Pearce, 52, became a fan of the sport on the back of his friendship with Warrington coach Tony Smith.
The relegation of London Broncos last season means there is no Super League representation in England outside of Yorkshire and the north west.
"It's a wonderful sport, full of action," Pearce told BBC Sport.
"It's very physical with a great deal of talent intermingled in all of that, but enjoys almost no profile in the south of England.
"Whenever I attend matches, I get the feeling in boardrooms or with the supporters that it's a working-class sport and an open sport.
"It's good to see the fans rub shoulders and it's a wonderful sport for that."
Despite the Broncos losing their top-flight status, there is a growing amateur scene in the south, as well as professional clubs London Skolars, Hemel Stags, Coventry Bears and Gloucestershire All-Golds.
Although Super League side Catalans Dragons are also not within the 'M62 corridor', their home city of Perpignan is within a region of France has long been a stronghold for the 13-man code.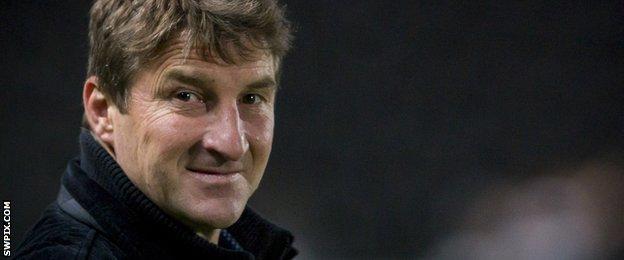 Pearce met Australian Smith when he gave a talk on the Uefa Pro-Licence course, where he followed in the footsteps of Leeds Rhinos head coach Brian McDermott and England cricket coach Peter Moores.
The two then visited each other's respective clubs - Pearce watched Warrington train and while Smith did likewise with England and Nottingham Forest.
"Every modern day coach tries to do that," said Pearce, who has also spent time with Stuart Lancaster and England's rugby union side.
"The door gets opened for your pretty readily - other sports are quite happy to sit with another coach from another sport to try to learn what they can.
"The one thing I have got is the openness to open the door for other people to come into the working environment that I have created."
Pearce's sacking by Nottingham Forest in February ended the most recent stint of his coaching career.
However he said there "is no animosity" between himself and a club he served with distinction as a player between 1985 and 1997.
"I'm not the sort of individual who sits and sulks and moans about it," Pearce said. "I get on, I travel, I work in the media, I do various things.
"If an opportunity comes up for me in football all well and good, but if not I'll carry on doing the bits and pieces I'm doing."
Pearce was speaking at an event for Killingworth Young People's Club.