Brian Smith hoping to awaken the Wakefield Trinity Wildcats
Last updated on .From the section Rugby League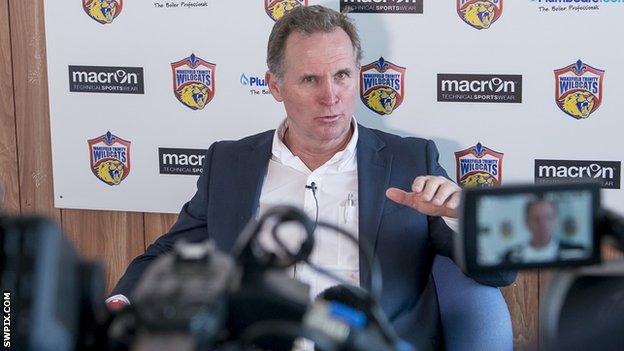 Not since the arrival of the 'King' Wally Lewis in 1983 has Wakefield Trinity made quite so many headlines as they have with the appointment of Brian Smith as head coach.
Queensland and Australia playmaker Lewis lit up Belle Vue during a 10-game stint that season, helping the club to five wins before returning to his native country.
It was a deal that captured the headlines - and it is hoped that the equally audacious appointment of 61-year-old Smith can bring a similarly impressive impact as he takes charge of Super League's bottom club.
The former Hull FC, St George, Bradford, Parramatta, Newcastle and Sydney Roosters coach is a renowned tactician, named NRL Dally M Coach of the Year in 2010.
His task is simple. Retain Trinity's top-flight status.
BBC Sport assesses why Wakefield have opted for Smith, the task ahead and what he can bring to help salvage the Wildcats' season.
Happily retired?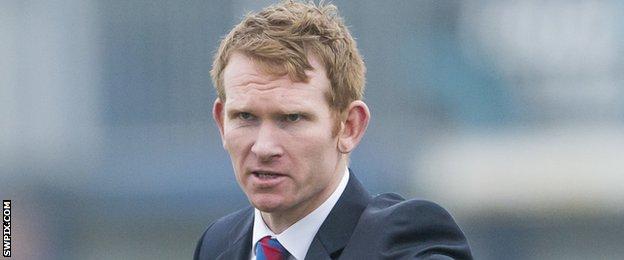 Brian Smith's last coaching post was with Sydney Roosters in 2012 and by his own admission was happily retired. With a tactical analysis column in Australian magazine Rugby League Week and family to keep him occupied, there was little interest in coaching until Smith's former Parramatta associate James Webster lost his job.
Smith: "I have a lot of time for James as a guy and a footy coach, he's got a lot of stuff that lies ahead of him and I wanted to make sure he didn't get down or think he was in this permanent disaster area.
"In our conversation right at the end he mentioned about Wakefield needing an experienced coach, and I went to sleep that night thinking about it.
"Michael Carter rang me the next morning and it took about 10 minutes. I thought, I've got nothing to lose and it looks like a really challenging job, and I'm always up for a challenge."
Waking the Wildcats
Smith takes over a Wakefield side currently rooted to the foot of the table, seven points behind Salford above them, who coincidentally provide Smith's first opponents. No league win in 14 games means the Wildcats are all but bound for the middle eights, bringing the prospect of relegation into play.
Smith: "It's bountiful [the challenge]. It's going to take some doing, I just know from lots of experience at the other end of it.
"When you're at the bottom it feels impossible, you think it's never going to change and it's my job to break that.
"We need hard work but smart work."
Lifting heads
The run of 14 straight league defeats has had a detrimental impact on confidence at Belle Vue. Wakefield avoided the drop last season with a similar upturn in form once James Webster took over from Richard Agar.
Smith's task is to bring the same boost, with a longer-term impact. Smith is regarded as a master coach in his native Australia, thanks to his work with St George, Parramatta and particularly the Sydney Roosters, who he took from the wooden spoon to a Grand Final in the space of a season.
Smith: "It's not rocket science, as they say - it's confidence that comes like a bucket-load. If Wakefield had jagged a win against Leeds - you can get a bucket-load of confidence. But it can be a false confidence. It's bounces of the ball and luck.
"The real confidence is when you get a win against anyone on the back of all the work you've put in, that intense work and direction - the feeling you're doing things with purpose and clear direction.
"It leads to successful performance and in team sports it's manifold - the other guys are doing the same thing, if you can get 25 or 30 guys all getting individual improvements, that's when you can catch fire."
Returning to the Old Dart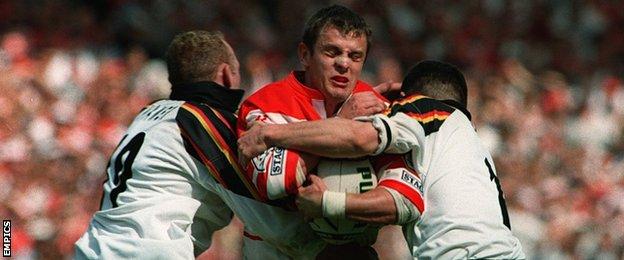 Smith's CV includes two previous stints in England, both of which achieved improvement.
He helped Hull FC to a Premiership final in 1989 and laid the foundations for the Airlie Birds' 1991 triumph, before his stint at Bradford culminated in a Challenge Cup final appearance in one of the all-time classic encounters between the Bulls and St Helens, who completed a Super League and Cup double with victory.
Smith: "I've had some ups and downs in my coaching career, it's not always been successful, but both Bradford and Hull were well below their previous best and the great history that went with those clubs.
"I'm proud of what I was able to achieve as a coach. The reality of it was there was a wonderful group of people at both those clubs, not just the players and staff.
"Bullmania was nuts at Bradford and the Hull fans were awesome. We lost the Premiership final in my first year there to Widnes and our fans drowned their fans out after the game, we got a magnificent reception and made me feel about 10ft tall - which is pretty tough for someone who is about 4ft tall."
New arrivals?
Wakefield have one and a half quota places to make an international import to fill following the departures of Dean Collis and Lopini Paea. Injuries have affected the number of players available to former coach James Webster and assistant Stuart Dickens, so Smith could be tempted to dip into his contacts to add to the player pool.
Smith: "Michael has told me that's an option, and it will probably be one we take up.
"We've been contacted by quite a few player agents, some here and some in Australia, New Zealand and France.
"At the moment my complete and total focus is here. If someone wants to get off the train to Wakefield [to sign] that's not a problem for me, but the guys who are here and want to give it a shot are my priority.
"I want to make sure I give them the fullest of attention, to get good individual results and if we get that then we'll be on our way. Then it's about teamwork and combinations and tactics."
Will Smith be up to date?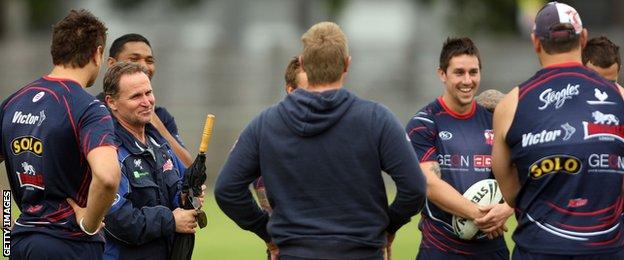 Smith has not been in coaching employment since his exit from Roosters in 2012. However, his media and punditry work, added to an extensive contacts book, means he is confident there is a sufficient knowledge base and tactical awareness to work in the Super League.
Smith: "Initially it's about basics - rugby league is more and more about being able to do the basics.
"The difference between now and the golden days, which some of us older blokes struggle to see, is that's a lot harder to read the game with awareness levels and then apply the skills under that extra speed.
"It's about the quickness of the game, the wingers are no faster I think, but the rucks and the flow are quicker.
"Without giving too much away, that's where I think I can help these guys."
Additional reporting by BBC Radio Leeds' James Deighton