Ben Ross: Rugby player holds no grudges for live TV arm break
Last updated on .From the section Rugby League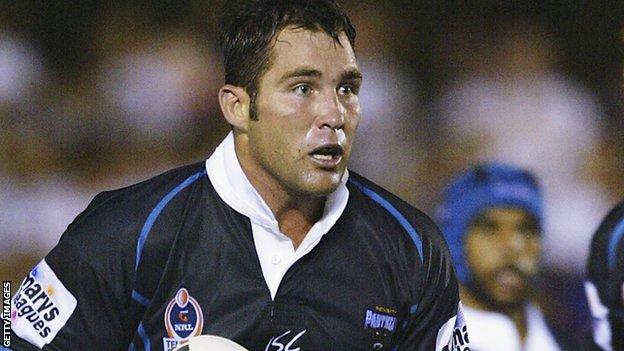 Ben Ross says no-one is to blame after breaking his arm while arm-wrestling fellow ex-rugby league player Wendell Sailor live on Australian TV.
Ross immediately clutched his injured right arm after it suddenly gave way, while Sailor, another retired league player, was left visibly shocked.
Sailor apologised on Twitter, but Ross replied: "Wasn't anyone's fault mate."
The 35-year-old also praised the NRL Footy Show, which broadcast the contest, for its "help and care".
He then tweeted: "Thanks for everyone's messages of concern and also wishes. Will know full extent of the break etc soon."

Ross once broke his neck in a tackle when playing for Cronulla but said from his Sydney hospital that the broken arm was "probably" the most painful injury he had ever had.
"When I looked at Wendell's face, I knew something was wrong," he told local broadcasters. "His face, if it was possible, turned white."
Sailor, a former Australian international in both rugby league and union, was extremely apologetic: "Even if you didn't like someone, you never want to do that to someone.
"Just watching his face, hearing that noise go snap... it was just terrible."
Ross helped Penrith Panthers win the NRL title in 2003.
He also played for Cronulla, South Sydney and St George Illawarra.