Marwan Koukash: Salford owner rejects Kevin Locke wage claims
Last updated on .From the section Rugby League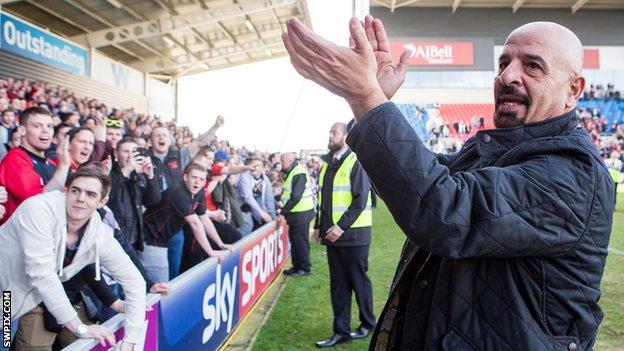 Salford have appointed Australia head coach Tim Sheens as director of rugby, as owner Marwan Koukash insisted that the club do not owe Kevin Locke money.
"We always pay the players and we always pay them in full," said Koukash.
Sheens, 64, has been in charge of the Kangaroos since 2009 and led them to victory at the 2013 World Cup.
He spent three weeks at the Super League side in February in an advisory role but has now returned full-time to help head coach Iestyn Harris.
At a fiery press conference at AJ Bell Stadium on Tuesday, businessman and racehorse owner Koukash addressed a number of issues at the Super League club.
'We don't owe Locke a penny'
Salford were in serious financial trouble and close to administration before Koukash took control in January 2013.
During his time in charge, he has changed their name from Salford City Reds, been a leading driver in the marquee player rule and financed a huge recruitment drive, signing players such as Rangi Chase, Gareth Hock and 26-year-old Locke.

However, injuries and a lack of form have seen Kiwi full-back Locke struggle with life in England, and just 11 months after his debut he is no longer a Salford player.
"Kevin wanted to be released from his contract," said Koukash. "He stated many reasons for it and he said that we owe him £52,000.
"I've gone personally through the wage slips that we made for Kevin and we don't owe him a penny."
Koukash made an additional statement to Locke: "You have 24 hours to send a chartered accountant to check the payments - if I owe you a penny, I will hand deliver it to you and say sorry, but it's not going to happen."
Harris's position unaffected by Sheens arrival

Salford lie second from bottom of Super League but are just three points behind eighth-placed Hull FC, with five more games to play before the top two divisions split into three towards the end of July.
Koukash insists the appointment of Sheens will not affect head coach Harris's role at the club.
"Obviously to start with Tim is on a short-term contract until the end of the season, but it wouldn't surprise me if he stayed on for two more years after that," Koukash said.
"He will help the club in many ways. I want to invest in youth and I need Tim's help to ensure we recruit the players who will be proud to play for the club.
"Iestyn Harris is still the head coach. He has worked with Tim Sheens before and Tim's appointment has no bearing on Harris's position."
A home fit for purpose?
When Salford moved from The Willows to AJ Bell Stadium in 2012, it was supposed to be the start of a new era for the club.
However, with no direct public transport, just one access road in and out and problems with the infrastructure, the move has not been completely beneficial and attendances have fallen.
The stadium, which they share with Premiership rugby union side Sale Sharks, costs them £500,000 a year in rent, according to Koukash.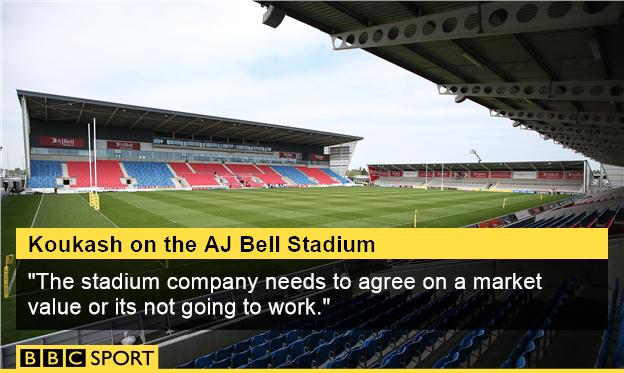 With no income from a club shop - Sale have the only shop at the ground - or from food and drinks on matchdays, they were losing up to £20,000 a game earlier this season.
Since then, Salford have had more than 6,000 fans attend matches against Wigan and Warrington and have offered free entry for the game against Catalans Dragons on Sunday, 5 July.
Council dispute
As well as his dispute with Locke, Koukash announced on Tuesday that his legal team will begin proceedings against Salford City Council.
Koukash said the council owes the Red Devils around £800,000, a sum he claims it offered to help develop the game and promote the club.
"Since the day I walked through these doors, the club have not received anything from the council, not a penny," Koukash said.
However, in a statement, the council said: "We are grateful to Marwan Koukash for taking over the club but need to stress that he willingly signed a legal agreement to take on the debts of the former club.
"It is not unreasonable, therefore, to expect him to honour that agreement and continue repaying that loan.
"It is wholly untrue to say Salford City Council owes the club money."