Paul Wellens: St Helens legend retires aged 35 with hip injury
Last updated on .From the section Rugby League
St Helens legend Paul Wellens has announced his immediate retirement from rugby league because of a hip injury.
Wellens will take up a coaching position at Langtree Park as part of Keiron Cunningham's staff.
The 35-year-old full-back spent his entire career with Saints since his debut in 1998, making 495 appearances and scoring more than 1,000 points.
The former Great Britain and England international won every domestic honour during 17 years as a player.
Wellens, who held Super League's appearance record until being overtaken by Leeds captain Kevin Sinfield earlier this month, captained Saints to a League Leaders' Shield and Grand Final double last season and signed a new one-year deal after winning at Old Trafford.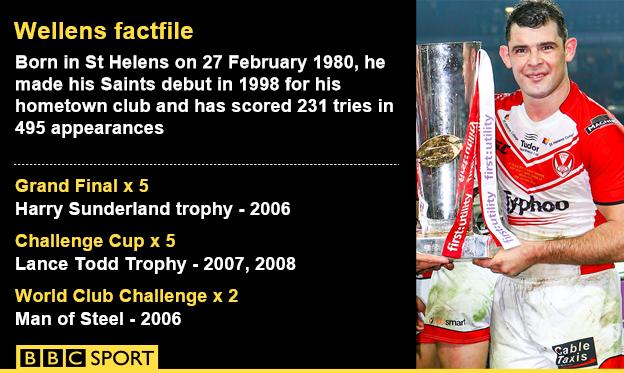 "I had injections last year to get through the hip problem, which was more than worth its while when you consider what we achieved," Wellens said.
"But in the early stages of this year, I started to struggle with it again.
"I knew something was substantially wrong there and I want the fans to know I have exhausted every angle possible in trying to find a way to get fit and playing."
He was replaced as captain for the 2015 season by Jon Wilkin and has not appeared for Saints since the Good Friday loss at local rivals Wigan in April.
"Paul is simply one of the greatest players ever to pull on a Saints shirt," said head coach and former team-mate Cunningham. "He has the respect of everyone around him and everyone loves and loved playing with him, me included.
"We wanted him to go around again, such is his influence, but the rugby gods have tapped him on the shoulder. His influence on us and what we do is never going to be lost."