Salford: Momentum key to Super League survival says boss Sheens
Last updated on .From the section Rugby League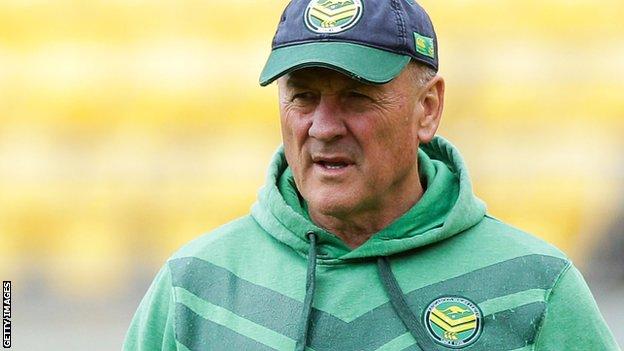 Salford director of rugby Tim Sheens says the club must target a winning mentality as they try to maintain their Super League status for next season.
The Red Devils currently sit 11th and if they remain in the bottom four of the top flight after the next three games will go into the middle-eight.
They would play the Championship top four for a 2016 Super League spot.
"If it's top eight, terrific, but with the 10 games we have to win as many as we can," Sheens, 64, said.
"If we're in the middle-eight, which is something that we can't control, we want to do well and retain our Super League status for next year," Sheens added to BBC Radio Manchester.
Sheens is unsure if he will be at the club next season as he is waiting on a decision about the Australia head coach position.
He has held the post since 2009 and led them to victory at the 2013 World Cup.
The Kangaroos do not play again until next May and Sheens has always signed one-year contracts.
"It's always an appointment, you don't apply," he said.
"I've always been part-time but they're talking now about a full-time role bringing in up in line to the State of Origin."