Super League: Clubs could face new rules on interchanges
Last updated on .From the section Rugby League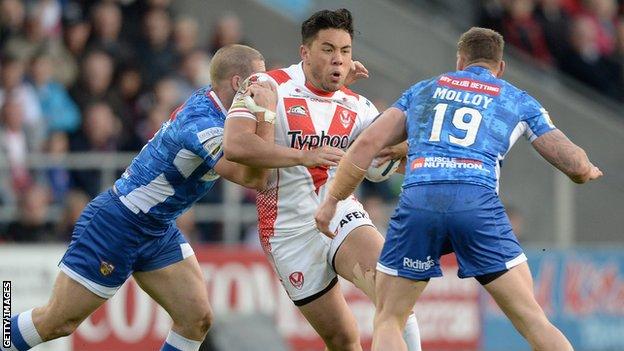 Australian rugby league is to reduce the number of substitutions during matches from 10 to eight, in a move set to be followed by the Super League.
The changes, designed to improve player safety, follow a review taken with the Rugby Football League.
National Rugby League head of football Todd Greenberg said: "There will be a greater emphasis on skill to complement power and size."
Four players will remain on the bench in the NRL from next season.
It is hoped that the changes, which Greenberg says would be the "most significant" to the game in a decade, will reduce the prospect of "collision injuries" as there will be fewer fresher players on the field at any one time.
Greenberg added: "These changes will reward endurance and fitness and open up the game.
"We believe that, unless we take action now, the game will become more structured, defensive and predictable in years to come."
The RFL will make its own recommendation to Super League clubs.