Fifita twins investigated over alleged inappropriate behaviour
Last updated on .From the section Rugby League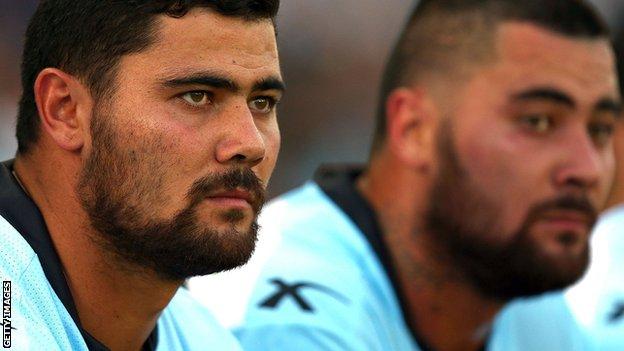 Cronulla Sharks twin brothers Andrew and David Fifita are being investigated for alleged inappropriate behaviour towards a referee in a junior game in the Sydney suburb of Penrith.
They have been stood down by their club and organisers have banned them from Penrith junior matches for 12 months.
A Sharks statement said the brothers "intend to defend the more serious charges levelled against them".
It added there were "conflicting" accounts of what had occurred.
Sharks prop David Fifita was acting as an on-field trainer for St Pat's in Saturday's match against rivals St Mary's. The Australian Broadcasting Corporation (ABC), which says it obtained an incident report, reported he allegedly swore at referee Tim Hannon and said he was "a disgrace".
ABC added that spectator Andrew, who is also a prop for the National Rugby League (NRL) club and an Australia international, is said to have allegedly approached the match official who tried to film the events and said "delete that now or I'll smash you".
St Pat's captain Jared Tyack defended the Fifita brothers on Australia's Triple M radio station.
"It's been grossly over-exaggerated," he said.
"An injured player from our side dislocated his shoulder and the referee stopped play. David was escorting him from the field, but he was 20 metres from the sideline and the referee resumed play.
"The play travelled to where David and the injured player were. It put both of them in danger and David wasn't happy about that."
The NRL, its Integrity Unit and the Sharks are working together to investigate the incidents.
NRL chief Dave Smith said: "The NRL will never prejudge anyone accused of breaches - everyone is entitled to the presumption of innocence.
"But if we become aware of any NRL players abusing match officials there will be very significant consequences."