Hull KR can give Steve Hubbard a Challenge Cup close shave
Last updated on .From the section Rugby League
Ladbrokes Challenge Cup final: Hull KR v Leeds
Venue:
Wembley Stadium
Date:
Saturday, 29 August
Kick-off:
15:15 BST
Coverage:
Live on BBC One from 14:30 BST, full radio commentary on BBC Radio 5 live sports extra, BBC Radio Leeds and BBC Radio Humberside.
In 1981, winger Steve Hubbard vowed not to shave off his beard until Hull Kingston Rovers had won the Challenge Cup.
Unfortunately for the former Rovers winger, their run to the final that year ended with defeat by Widnes and the beard has remained ever since.
However, with the class of 2015 back at Wembley to face Leeds Rhinos in Saturday's showpiece, all that might change.
"If Rovers win, I might shave it off," he told BBC Sport.
The hirsute superstition harked back to the previous year when Hull KR did go all the way to Wembley and won, beating city rivals Hull FC 10-5 in a classic final.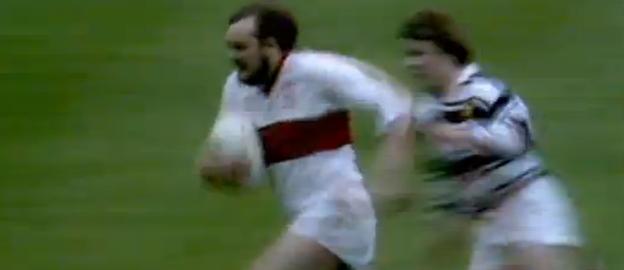 "My biggest hero was [tennis player] Bjorn Borg, he had mental toughness, fitness," Hubbard explained. "[The beard] for me it was a bit of a joke. At Wimbledon, Bjorn wouldn't shave until he'd won it.
"I said for a laugh I'd do that, I left stubble after the first round, and it grew, it was itching but the lads wouldn't let me shave it off.
"Anyway, we won and that summer I shaved it off. The following season we did the same, went through the rounds so the beard was there again, but we lost and that's why it's there."
35 years of hurt
If the facial fuzz was not enough of a reminder for Hubbard of Rovers' long wait for silverware, being an ex-player in such a rugby league-mad city ensures he cannot fail to forget.
The 59-year-old was Rovers' hero in 1980, scoring nine of the 10 points including a try to take the famous old trophy back to Craven Park.
"Living in Hull, it's been a constant reminder for 35 years. It was an incredible day for the city," Hubbard continued. "To go to Wembley on that day, play our biggest rivals and win was magical.
"I've been in the building trade for 35 years and I've had bricks thrown at me on one site, treated like royalty on others.
"I've had a few beers on the back of it."
Boyhood dreams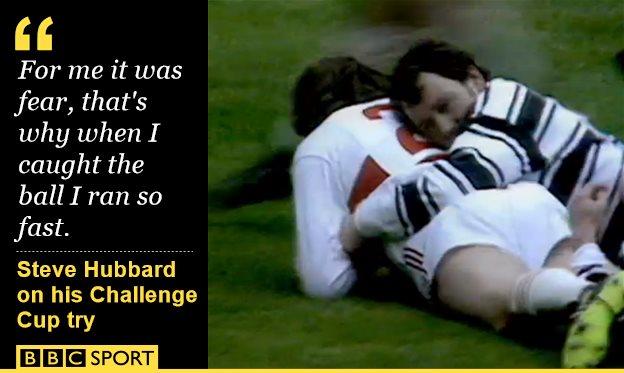 Despite being born in the west of Hull - the FC side - family influence from his grandfather Benji saw him side with the Robins at the age of four instead.
He went from fan to player when he switched from amateur union to league in 1978, and enjoyed a prolific time with the club before his career was cruelly cut short by a knee injury at 27.
"I was very fortunate to be playing in one of the best teams Rovers have ever had," Hubbard said.
"Roger Millward was a schoolboy hero of mine, along with Phil Lowe and Len Casey, and all of a sudden I was playing alongside these guys.
"I watched Roger from the moment he arrived at Craven Park so the fact I got to play with the guy was incredible. But then to find I'm playing at Wembley was even more incredible, to share those highs and lows with them.
"In the five years I was there we won everything. They were massive times."
'Something special was happening'
After beating Wigan in the first round, Hull KR saw off Warrington, Castleford and Halifax en route to Wembley.
"The teams we beat were top-class teams, we knew something special was happening after the win against Wigan," Hubbard said.
"We had Brian Lockwood, Allan Agar and Bernard Watson who had been to Wembley before and the stories started coming out. The lads would tell the stories and ramp up the excitement.
"Not even big Great Britain stars like Clive Sullivan and Roger Millward had ever been through that before.
"Once we got to the semi-final and we played Halifax then that was it, there was no way we weren't going to Wembley."
Nailing the trick
Hubbard's first-half try that proved key was the result of a pre-planned move, one that was not without incident in the preparation.
"We went down to Windsor, we trained overlooking the castle and we went through a few moves," he said.
"That's where the try came from. Brian Lockwood had this move he'd brought from Australia, there were all these dummy runners.
"The move we practiced, seven or eight times, and I dropped it every time. When Roger called it in the game, for me it was fear, that's why when I caught it I ran so fast."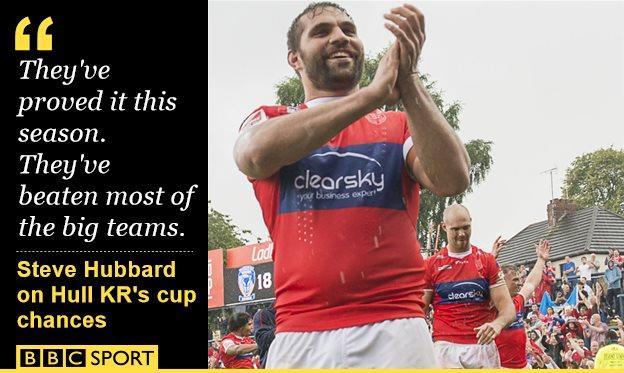 Limping to the Royal Box
Withdrawn at the end of the final with an injury which left him in plaster for 10 weeks, Hubbard missed out on the lap of honour with the players as they collected the Challenge Cup.
While sat on a stretcher speaking to BBC presenter Frank Bough, he noticed the players were going up to receive their medals - an event he was desperate not to miss.
"My doctor, Dr Lunt, said 'come on you lazy so and so, get up'. So I did, and he and our physio helped me walk down the dog track.
"My medal had been given away. The lad who got it, Paul Harkin, saw me going back and went up to see the Queen Mother and gave the medal back.
"Our whole team had gone up, the referee had been up, I went up last and she was able to give me the medal herself."
Ending the drought?
If Chris Chester's Rovers side are to follow in the footsteps of the 1980 vintage, they will need to beat Super League leaders Leeds Rhinos in Saturday's final.
Hubbard will be there, willing his old club to upset the form book.
"They've proved it this season," Hubbard added. "They've beaten most of the top sides.
"They were unlucky losing Terry Campese. He's a talisman, a thinker and an organiser. Without him, they've missed keeping the defence tight, but it's something they can put right. Leeds have had blips.
"I'd like to see a wet game, pouring down with rain. Leeds are a top team but they can't play that basketball-style game in those conditions."