St Helens: Jon Wilkin return lifted Luke Walsh - Iestyn Harris
Last updated on .From the section Rugby League
Jon Wilkin's return to the St Helens side brought the best out of half-back Luke Walsh, says ex-Great Britain and Wales playmaker Iestyn Harris.
Walsh scored a try and kicked six goals from scrum-half, while Wilkin also crossed for his 100th career try.
"Jon is a calming influence," Harris told the BBC Super League Show.
"It's not only his influence with ability but it's his talking. He talks to other players to put them at ease, which releases Walsh to do what he's best at, which is run at defences.
"When you know you're in control of the team and that one player who takes the team around the park, you do try a bit harder.
"Jon coming back into the team has calmed him down a bit."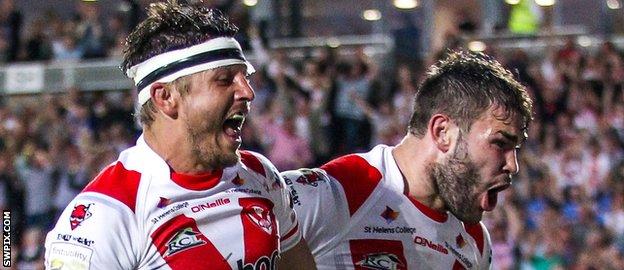 Stand-off Travis Burns, Walsh and Wilkin all have strong kicking games from which to build attacks for Saints.
"It's important to make sure you can ease the pressure on one player in particular," added Huddersfield prop Eorl Crabtree.
"We have the same [at the Giants] with Danny Brough and Jamie Ellis - you've got two great players to pass the ball to, which means they [the opposition] can't just sit on one player.
"Full-backs will sit on Walsh all the time to make sure his kicks don't go anywhere, or go to hand.
"With Jon back they have two options, they can go either way and that gives defences questions, they get confused and it's harder to work them out."