Shaun Briscoe: 'Injured players under pressure to play'
Last updated on .From the section Rugby League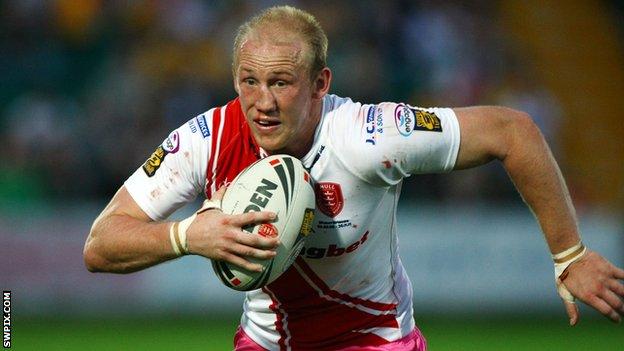 Former England full-back Shaun Briscoe says Super League players are under pressure to play through injuries.
Briscoe retired from rugby in 2013, after making over 200 appearances in spells with four Super League clubs.
The 32-year-old says he was once told by a coach that he had to play, despite not having fully recovered from injury.
"He said 'you're playing this week'. I said 'I'm not quite right', but he told me 'no, you're playing this week'," Briscoe told BBC Radio Manchester.
"It should be my call, but they paid my wages and that was the difficult bit for me.
"I think for the last six or seven games of that season I played with a knee injury that I shouldn't have played with and on Tramadol [a painkiller] before the game."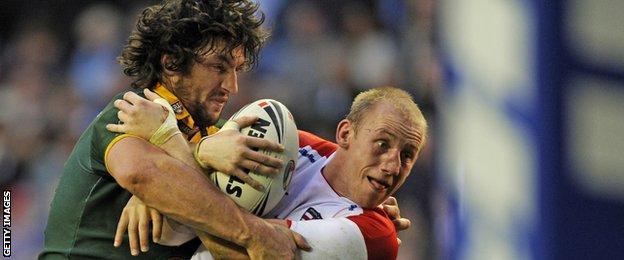 Briscoe, who won nine caps for England, believes that current players are still put under pressure to play through pain.
"If you went to any game this weekend, any Super League game, any Championship game there will be players playing on both sides with jabs," he added.
"By that I mean injections into muscles, joints, all sorts, just to get on that field, and the way they'll feel after it is 100 times worse than they'll feel during the game.
"People don't realise what sacrifices you go through, they just see it as a lifestyle where you're in front of the public and you get paid decent money.
"But at the end of the day when you get to 30, 32 years old like I am then it's 'what do I do next'? My body's an absolute wreck, where do I go from here?"