Super League Grand Final: How Wigan and Leeds started it all
Last updated on .From the section Rugby League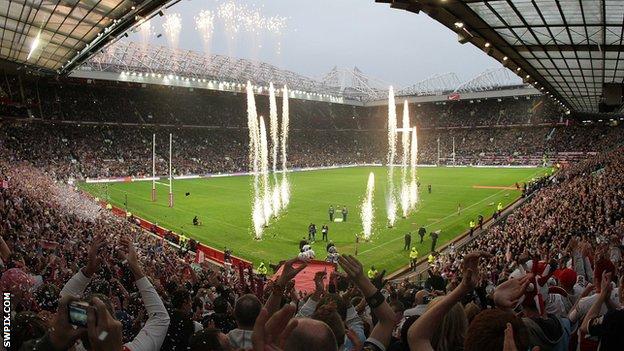 First Utility Super League Grand Final
Venue:
Old Trafford
Date:
Saturday, 10 October
Kick-off:
18:00 BST
Coverage:
Live commentary on BBC Radio 5 live sports extra (first half), Radio 5 live (second half), BBC Radio Leeds, BBC Radio Manchester and online; live text commentary on BBC Sport website; highlights on BBC Two (Sunday, 17:00 BST).
Saturday's 2015 Super League Grand Final at Old Trafford is one of the most anticipated events in the sporting calendar - a showpiece occasion.
More than 73,000 supporters will pack out Manchester United's stadium to watch Leeds Rhinos and Wigan Warriors battle for the right to be called champions.
It also marks 17 years since the inaugural event was held at Old Trafford, between the same two teams.
Two of the stars from that game - Kris Radlinski for Wigan and Leeds skipper Iestyn Harris - tell BBC Sport of their memories, and their thoughts on this season's repeat of that groundbreaking night.
A whole new ball-game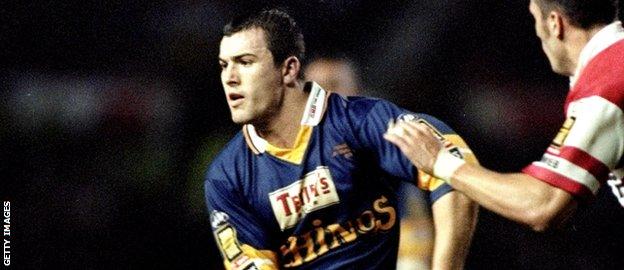 If the switch to summer rugby league in 1996 was not a seismic enough shift, the decision to move to a play-off system two years later marked a new era.
Previously teams lifted the title by finishing top of the league table, and a supplementary four-team Premiership play-off provided merely a day out rather than a winner-takes-all end to the campaign.
The new Grand Final was meant to create a new showpiece for the sport after years of first-past-the-post league campaigns.
Regular-season leaders Wigan Warriors and runners-up Leeds Rhinos would be charged with making the project a success.
This season has seen a new twist to the system, with the Super 8s, which see the top eight after 23 rounds now playing off for the final four places and eventually a place at Old Trafford.
Harris: "It's huge. When the format did change, suddenly not only did you have to be consistent, you had to mind energy levels, peak at the right time and perform in one-off games, and it changed the outlook on the whole competition.
"To finish at the 'Theatre of Dreams' - to have the final, the pinnacle, of primarily a northern game in the North at the best stadium in the game has taken the game on.
"I think it was a bit controversial, because the game historically had the Challenge Cup final at Wembley and there was talk the Grand Final would take the shine off that, but they've worked terrifically well together.
"I won it in 2005 with Bradford, and it was arguably as good. You only need to win five games to lift the Challenge Cup. To win the Grand Final you need to be consistently the best. It tops it for me."
Radlinski: "We'd come on the back of the old Premiership campaigns and everyone loved it - it revitalised the sport.
"Where it's at now, it's unbelievable, particularly this year where it was uncertain [how things would work] with the Super 8s but some games have been incredible to watch."
Soggy Manchester night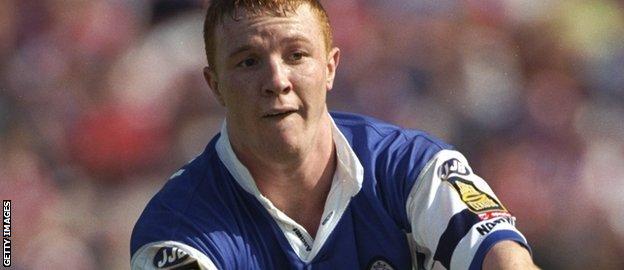 Wigan went into the game having beaten the Rhinos on home soil in the play-offs to book their Old Trafford spot, although they lost both regular-season meetings between the two clubs.
Both sides had international-class players. Harris - that year's Man of Steel - Daryl Powell and a young Adrian Morley made up some of the Leeds stand-outs, while the pacy Jason Robinson, Radlinski and Henry Paul were among the Wigan stars.
All pointed to a classic final, but the tumbling rain at Old Trafford played its part as the Warriors triumphed 10-4.
Radlinski: "It wasn't a great quality game because the conditions didn't allow it to be. It was a very intense affair, because it was a new concept and the inaugural Grand Final. I think it led to it being tense. Leeds and Wigan were pretty close at the time.
"A lot of the Grand Finals since have been pouring down but this was hammering all day. It was a tight game, not much rugby played at all.
"Even Richie Blackmore's try for them had him sliding over - he would have been stopped on a drier night."
'A piece of magic won it'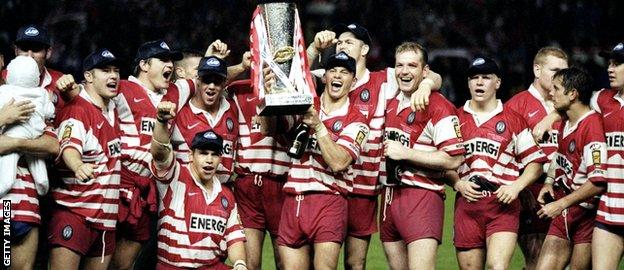 The difference in the end between the two teams lay in the twinkle-toes of Jason Robinson.
Defences were dominant but nothing could stop the winger, nicknamed 'Billy Whizz', from scything through for a memorable try that Leeds could not recover from.
Radlinski: "It was a piece of Jason magic that won it - he wrong-footed the defence to score."
Harris: "I was full-back at the time and when he was skipping across the field I didn't think there was anything on.
"But as he consistently seemed to do through his career, he managed to part the defence and, from nothing, sliced through and sprinted 20 metres.
"It broke our hearts. No-one was looking like breaking the deadlock and someone like Jason had that ability. I'm sure there is going to be many a player who can do that on Saturday."
What will be the story of 2015?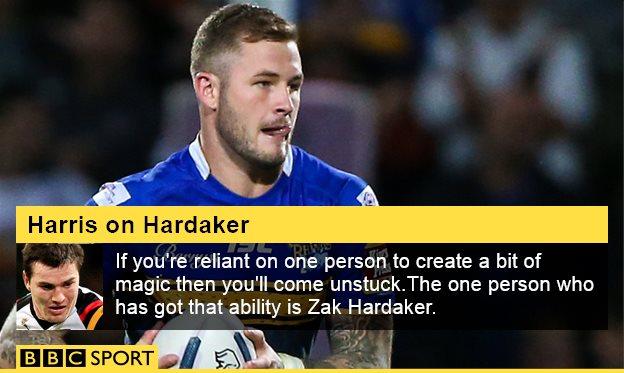 There are several parallels between 1998 and 2015. Again the two most consistent teams, finishing first and second, meet in Saturday's final, although this time it is Leeds who ended the campaign at the summit.
Harris, who lined up at full-back in the late Graham Murray's team, went into the final as the newly crowned Man of Steel, as does the Rhinos' current custodian Zak Hardaker.
The Wigan-Leeds game has become a rivalry in itself in recent seasons, with significance in league and cup competitions come trophy time.
Wigan were ruthless in their victory against Huddersfield in the semi-finals, while Leeds left it late to dump out reigning champions St Helens in a Headingley classic.
Harris: "It'll be an absolutely ferocious first 20 minutes and the pack of forwards from both teams will have to play to lay the platform. That's the priority, get a foothold.
"Both are great teams. Leeds have got match-winners. It's whether they get the foothold to stay with Wigan.
"The most exciting thing for me is they're both so quick and fast, they can score from anywhere - it captures your imagination."
Radlinski: "The game has a lot of try-scorers playing.
"It'll be quite open and tense early on but after half-time it'll open up a bit. Hopefully we'll see some great tries and we'll be talking about some great rugby league at the end of the night."
Kris Radlinski was speaking to BBC Radio Manchester's Phil Kinsella.