Sam Burgess: Steve McNamara predicts league return
Last updated on .From the section Rugby League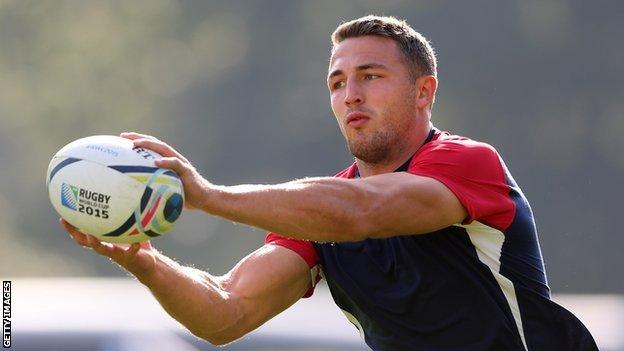 England v New Zealand Test series
Schedule:
First Test: KC Stadium, Hull (1 November); Second Test: Olympic Stadium, London (7 November); Third Test: DW Stadium, Wigan (14 November)
All three Tests will be broadcast live on BBC television
Cross-code star Sam Burgess will one day return to rugby league, says England coach Steve McNamara.
Burgess, 26, was part of England's rugby union World Cup squad less than a year after switching codes.
His selection was criticised and cited as a reason why Stuart Lancaster's men failed to make it out of their group.
"At some point I am sure he will come back - whether that is six months, 12 months, three years, five years, who knows," McNamara told the BBC.
"It is the game he was brought up with."
Burgess was selected in the centres by Lancaster - even though Bath coach Mike Ford has identified the back row as a better position for the player, who moved to the Recreation Ground after winning the NRL title in Australia with South Sydney Rabbitohs.
"People always want to point the finger at someone else," said McNamara, Burgess's former coach with Bradford Bulls and England.
"I couldn't be more proud of Sam. He deserves huge credit for being one of the world's best at rugby league, then to give it away to challenge himself in a really uncomfortable environment and be an international in the space of 12 months."
England play a three-match Test series against New Zealand next month, before which they have a warm-up game against France at Leigh on 24 October.
McNamara's Roosters role could continue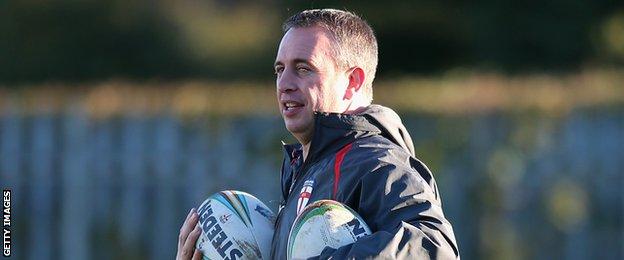 McNamara began his coaching career at Bradford and, after a spell as Great Britain assistant coach, became full-time England coach in 2010. He led the national side to the World Cup semi-finals in 2013.
Since January 2014, he has combined his England duties with being assistant coach at Australian NRL side Sydney Roosters - something he says could continue in the future.
"There is an opportunity to stay at the Roosters," said the 44-year-old.
"I will sit down with the RFL at the end of the Test series and decide which direction we want to go in. It is exactly the same with the Roosters."
Defences on top down under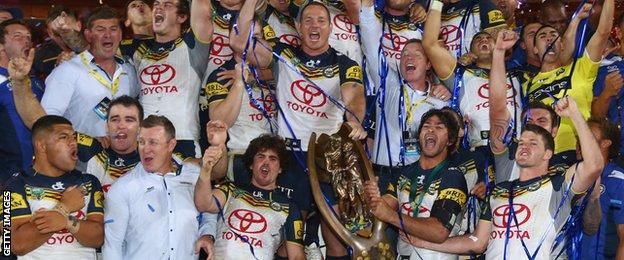 McNamara's experience of working in the NRL has given him an insight into the differences between Australia's premier competition and the Super League.
"NRL games are far closer in terms of points scored," he said. "It is a more defence-orientated game.
"Here, Wigan might win by 40 for two or three weeks and then have a really close game.
"In the NRL you have to be at your best or very near your best every single week, firstly to make the team and then to win a game.
"It is not better or worse. It depends how you like to watch your rugby league."
Fine margins
The series against New Zealand gives England an opportunity to claim a measure of revenge following their last-gasp defeat by the Kiwis in the 2013 World Cup semi-final.
"There was a long period of time where the southern hemisphere teams felt that once they got to the 60-minute mark, England or Great Britain would fold. That is not the case any more," said McNamara.
"We have lost our more recent games against New Zealand by the finest of margins; the last 20 seconds in the World Cup semi-final and the last kick of the Four Nations game in Dunedin last year, where we get a penalty to draw but we can't draw because we need to win to go through.
"The intention is to turn those very close losses, which we are quite rightly judged on, into victories."
Joe Burgess has 'great chance' of playing
McNamara has named seven uncapped players in his squad including winger Joe Burgess, who scored the opening try in Wigan's Grand Final loss to Leeds on Saturday.
"Joe went to Australia as part of an under-18 squad," said McNamara. "He really stood up.
"He was involved in our squad last season. He never got to play a game during the tournament. Dealing with that disappointment is a really important aspect of being a quality player and a person.
"Joe was very good. He has improved himself over the past 12 months and he has given himself a great chance of getting a game this time around."
Burgess, who is no relation to union convert Sam, is leaving Wigan to join Sydney Roosters for next season, and McNamara feels the move will benefit the 20-year-old.
"It is a fine balance," he said. "The Super League is vital for our game. It needs to be as strong as it possibly can be. We want to keep as many of the best players as we can.
"The NRL is a different style of competition. It will benefit Joe. He will see another side to the game."