Kylie Leuluai: Leeds Rhinos prop 'put life on line' - McDermott
Last updated on .From the section Rugby League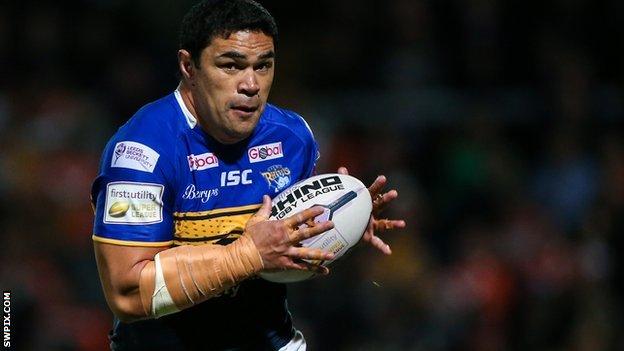 Retiring Leeds Rhinos prop Kylie Leuluai "put his life on the line" for the team, according to head coach Brian McDermott.
"It was a really scary moment," McDermott told BBC Radio Leeds.
"I don't think it's over-dramatic to say he was putting his life on the line for the group and for the players."
McDermott continued: "He was limited in what he could do but while he was on there he was very, very effective.
"He'd never been known for his 30-minute spells, he was always known as a 15-20 minute man, but by his own admission he was done after 10 minutes.
"So his task was to go and cause as much havoc as he could in 10 minutes and I've got to say it worked. Credit to him."
Leuluai, who is remaining with the club as their welfare support officer, joined Leeds from Manly in 2006 and is their most successful overseas player of all time, making 259 appearances.