Daley Williams: Keighley Cougars player given four-year ban
Last updated on .From the section Rugby League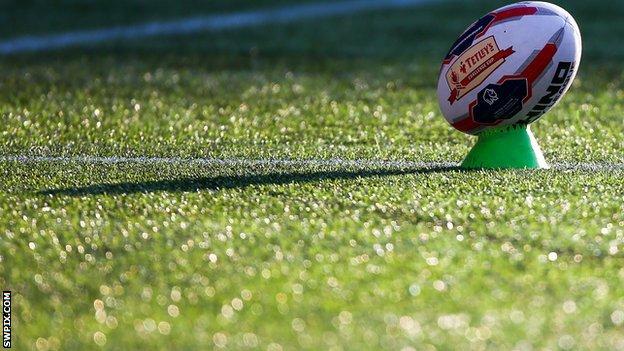 Keighley Cougars centre Daley Williams has been given a four-year ban after testing positive for anabolic steroids.
Williams, 29, tested positive for drostanolone and a metabolite of stanozolol in an out of competition test by UK Anti-Doping on 5 March 2015.
He will serve a four-year ban back-dated to 8 April this year and running through to midnight on 7 April 2019.
The Cougars, who play in rugby league's third tier, said they have "released the player with immediate effect".
Williams, who made 13 appearances for the Cougars during their relegation from the Championship in 2014, told UKAD that he did not intentionally take the banned substances but he was given the maximum punishment because he failed to prove his case.
He admitted to a UKAD official that he took a supplement from an un-named third party at a Halifax gym after being concerned over weight loss after breaking his jaw in November 2014.
UKAD's chief executive Nicole Sapstead said: "This case highlights the worrying trend of young men using steroids either to improve their performance on the pitch or for cosmetic reasons.
Banned UKAD athletes - 149
Rugby Union - 35
Rugby League - 28
(Nov 2009 to Sept 2015)
"Not only are these young men cheating their opposition and their team-mates, but they are also cheating themselves. They either do not know, or in some cases choose to ignore, the danger they are putting themselves in by continuing to abuse these substances."
Williams, who began his career at Salford, has been banned from all sport and is the second rugby player to be handed a four-year drugs ban this year.
Former England Under-16 rugby union international Daniel Spencer-Tonks, 20, tested positive for the steroid stanozolol while playing for rugby league side University of Gloucestershire All Golds in February.
Spencer-Tonks claimed after his positive test that steroid abuse was "widespread through all levels of rugby".
What Williams tested positive for
Drostanolone:
Among a group of drugs named anabolic steroids which mimic the effects of the male hormone testosterone. They can be taken illegally to increase muscle mass and improve athletic performance.
Metabolite of stanozolol:
The product that remains in the body after it has broken down the anabolic steroid stanozolol.