Mitchell Pearce: Sydney Roosters captain says he needs help
Last updated on .From the section Rugby League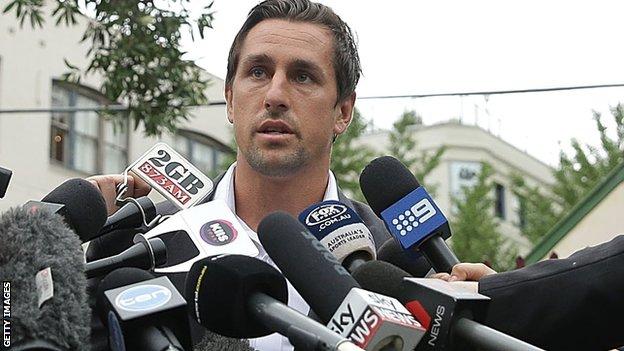 Sydney Roosters captain Mitchell Pearce says he has "a problem with alcohol" after footage emerged of him apparently committing lewd and drunken acts.
Pearce has been stood down from training, the club are investigating and they have informed the NRL.
The 26-year-old half-back said he had to address his alcohol issues and added: "It is not an excuse but a realisation that I finally need help."
The incident is said to have happened at a house party on Australia Day.
In the video, Pearce appears to try to kiss a woman, who accuses him of wetting himself after rejecting his advances, before he allegedly simulated a sex act on a dog.
"Together with the club I'm working on a solution for me to address these issues that will come out in the next couple of days," said Pearce.
The club issued the following statement:
"The Sydney Roosters can confirm that Mitchell Pearce will be receiving treatment in an intensive rehabilitation facility for an extended period. Pearce has tonight departed for the overseas facility with his mother, Terri. The club's concerns for Mitchell's welfare remain paramount as he seeks treatment."
In 2014, Pearce was fined £9,800 and suspended after an incident in which he was arrested and ejected from a Sydney nightclub.
He will not return to training with the Roosters until the club "concludes its internal investigation".
Pearce, the son of rugby league legend and NRL commissioner Wayne Pearce, looks certain to miss the trip to England for the World Club Series game against St Helens at Langtree Park on 19 February.
"I'd like to unreservedly apologise to everyone for my actions over the past couple of days," added Pearce.
"My behaviour was unacceptable. I'm embarrassed and take full responsibility for my actions."