John Boudebza: Hull KR condemn hooker's four-match ban
Last updated on .From the section Rugby League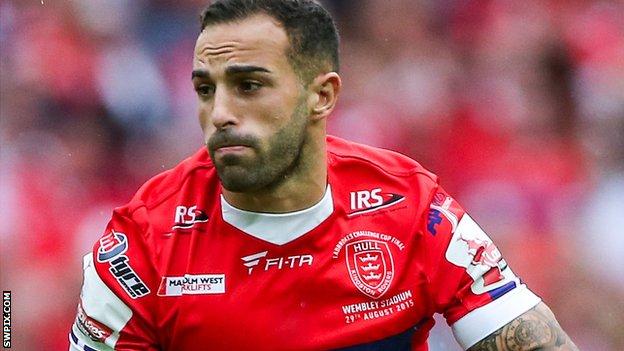 Hull KR chairman Neil Hudgell is unhappy with the Rugby Football League's decision to ban hooker John Boudebza for four matches.
The 25-year-old received the suspension for a tackle on Michael Shenton in Sunday's draw against Castleford, which ended Shenton's season.
Boudebza's ban is double the normal maximum sanction for a grade B offence.
"Yet again the RFL disciplinary process has shown itself not fit for purpose," Hudgell told the club website.
England international Shenton, 29, damaged his anterior cruciate ligament in Castleford's first match of the 2016 season.
The RFL's sentencing guidelines state that disciplinary panels consider the length of time an injured opponent will be out of the game when passing sentence and higher penalties can be imposed if an injury has occurred as a result of the misconduct.
Rovers appealed to reduce the ban on Wednesday, but the RFL upheld the suspension and £300 fine.
Hudgell continued: "In this instance a serious injury occurred and I have every sympathy with the player (Shenton), but you cannot ban a player (Boudebza) for inflicting an injury caused by the type of tackle effected literally hundreds of times over a season.
"I feel desperately sorry for the player (Boudebza), who is distraught, to now be labelled the sort of player who inflicts serious injury on another.
"In finding the tackle was 'careless' it defies logic that the panel then stepped outside the normal range of penalties for the grade of offence."