St Helens captain Jon Wilkin urges Saints to be 'exceptional' against Wigan
Last updated on .From the section Rugby League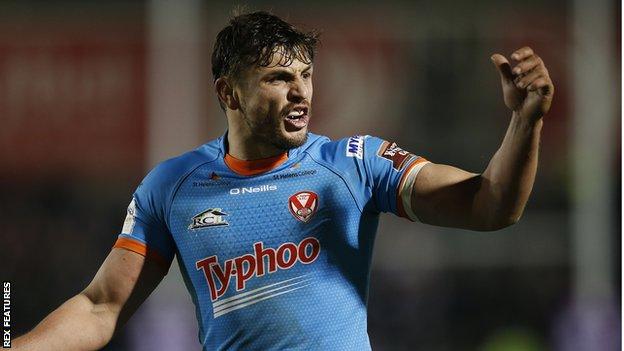 St Helens captain Jon Wilkin says they will have to be "exceptional" to win their Super League game against Wigan on Good Friday.
Saints are currently fourth in the table, one place below their rivals, who are also two points better off.
"The Good Friday derby game, it's even bigger than the other derby games we play this season," Wilkin told BBC Radio Merseyside.
"This game is head and shoulders the biggest league game of the year."
Saints suffered their second loss of the season in their last game when they were defeated by Leeds Rhinos.
"Wigan this week is a huge challenge for us. They're a fantastic, well disciplined side. We have to be exceptional this week and a far sight better then we were against Leeds," Wilkin added.
"For the guys who haven't played in this game before, it's something we have been telling them about since pre-season,
"Forget about the league, forget about the Challenge Cup, forget about anything else, this game in isolation is as important to both sets of fans as any other."
He added: "We are going into this game to be physical and to be strong. Effort, intensity, aggression, those are the easiest bits to get right.
"Since I have started playing with St Helens, the Good Friday derby game has been the one of the most memorable days of my career."