Mick Sullivan: Two-time World Cup winner dies aged 82
Last updated on .From the section Rugby League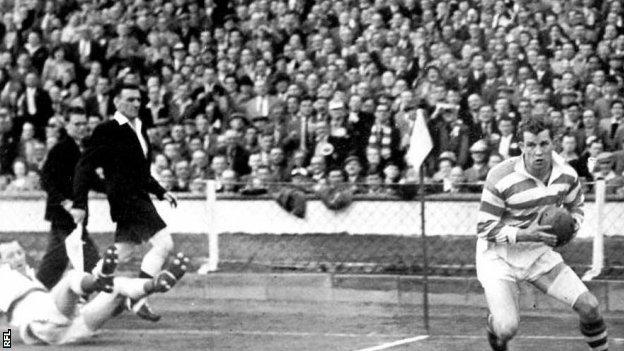 Two-time World Cup winner Mick Sullivan has died at the age of 82 after a long illness.
The winger helped Great Britain win the World Cup in 1954, at the age of 20, and again in 1960.
He set the record for the most GB caps with 46 - later equalled by Garry Schofield - and scored 41 tries.
His club career saw him play for Huddersfield, Wigan - with whom he won the Challenge Cup in 1958 and 1959, St Helens and York, whom he also coached.
Sullivan was also part of Wigan's Championship-winning team of 1960 and later played in Australia, serving as captain and coach of Junee in the Group 9 competition in southern New South Wales from 1966-68.
One of only 25 members of the Rugby League Hall of Fame, Sullivan was last week admitted to Pinderfields Hospital in Wakefield, where he died on Tuesday.
Schofield tweeted: "Very sad news. Rest in peace, legend."