Scotland's Steve McCormack relaxed over Four Nations venues
Last updated on .From the section Rugby League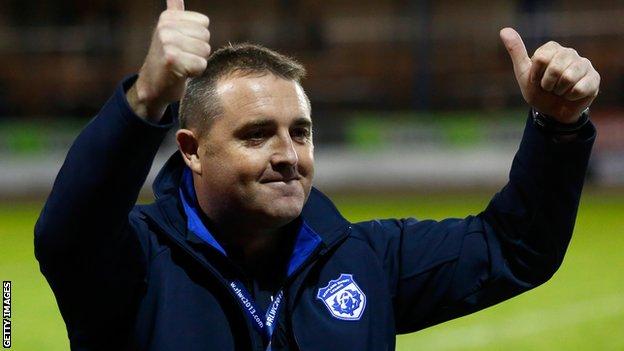 Scotland coach Steve McCormack is comfortable with the decision to stage his team's games in England when they make their Four Nations Series debut.
The Bravehearts will kick off the tournament against Australia in Hull before facing England in Coventry and New Zealand in Workington.
Tentative plans to take at least one of their games to Scotland were shelved.
"We were fully aware there were no guarantees and we're delighted what they've come up with," said McCormack.
"It would have been great to have had a game in Scotland, but England are hosting the tournament and we're comfortable with the venues that have been chosen.
"We've been to Workington for the last three years and it's great for west Cumbria again.
"They will support that match and we'll get a big crowd behind us - and we're also quite comfortable with the other two."
Scotland, who qualified by winning the 2014 European Championship, take on Australia at the KC Lightstream Stadium in Hull on Friday 28 October.
McCormack's side then face England at the Ricoh Arena in Coventry on Saturday 5 November before facing the defending champions at the Zebra Claims Stadium in Workington six days later.
Scotland, who lost 40-4 to the Kiwis in the quarter-finals of the last World Cup, will be meeting England and Australia for the first time in their 22-year history.
Four Nations 2016 fixtures
Fri 28 Oct:
Australia v
Scotland
, KC Lightstream Stadium, Hull, 20:00 BST
Sat 29 Oct:
England v New Zealand, John Smith's Stadium, Huddersfield, 14:30
Sat 5 Nov:
England v
Scotland
, Ricoh Arena, Coventry, 17:30
Sat 5 Nov:
New Zealand v Australia, Ricoh Arena, Coventry, 20:00
Fri 11 Nov:
New Zealand v
Scotland
, Zebra Claims Stadium, Workington, 20:00
Sun 13 Nov:
England v Australia, Olympic Stadium, 15:30
Sun 20 Nov:
Final, Anfield, Liverpool, 14:30
"I don't think it gets any bigger for us than that opening fixture," said McCormack.
"We've never played Australia. They've obviously got a change of coach and some fantastic players."
McCormack will again scour the professional ranks to bolster his squad with any players with a Scottish connection.
"We're confident we can put a squad together that can compete really well in the tournament," he added.
"I've got the envious task of watching our players for their clubs, meeting individuals to discuss what we're trying to do and putting the squad together.
"A lot of hard work has gone on in the last three years. We've spoken to an awful lot of players. I went over to Australia last year and our chairman Keith Hogg went over this year and obviously we keep in touch with all the Super League and Championship players.
"Everyone saw at the World Cup and the Europeans in 2014 that we've got some fantastic talented players in Super League and the NRL that will be so proud to represent Scotland again and some exciting young players coming through.
"We will add a couple of players to the pool, too, which should strengthen us for this year and the World Cup next year."