Leeds Rhinos: Super League strugglers are 'not in crisis'
Last updated on .From the section Rugby League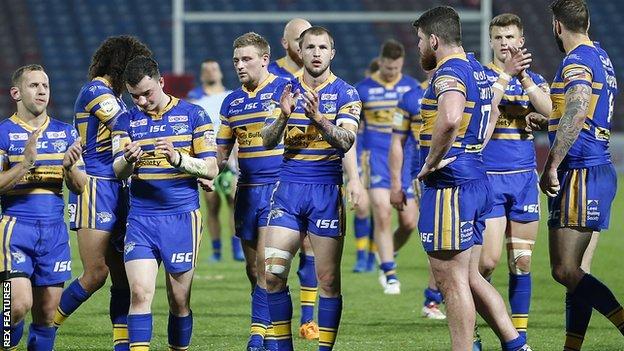 Leeds Rhinos chief executive Gary Hetherington has said the Super League strugglers are not in crisis.
They host Castleford on Thursday.
"Most clubs in this situation would be in crisis with low morale, a blame culture and a frenzy to make wholesale changes but that's not the case here," Hetherington said.
"Don't get me wrong, we are hurting very badly and I see it everyday with the players and coaching staff at training and all our staff at Headingley, but we know the reasons for our plight and no one could have envisaged what has happened over the past few months.
"And so I find myself surrounded not by pessimists but by an incredibly energised and positive group of players, coaches and staff who are all working incredibly hard to achieve new and different goals."
Hetherington said the team's aim was now to secure a finish in the top eight when the league splits after 23 matches, thus avoiding having to enter the middle eights and potentially play in the million pound game.
Brian McDermott's side are currently five points behind eighth-placed Castleford.