BBC Sport - Super League Show Rewind: Leeds meeting evokes Leigh's finest hour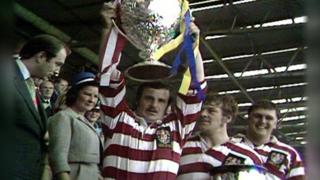 Leeds meeting evokes Leigh cup memories
You have to go back to the first months of decimalisation in the United Kingdom and the era of glam rock for Leigh's greatest rugby league moment, when the side from Hilton Park triumphed against mighty Leeds in the Challenge Cup under the old Twin Towers at Wembley.
The year was 1971, and with veteran playmaker Alex Murphy skippering the side, the Leythers ended a 50-year wait to lift the famous old trophy.
Leeds had a pantheon of stars, including the late John Holmes, Syd Hines - who was to be sent off - and John Atkinson, but Leigh, whose talented side included David Eckersley, Kevin Ashcroft and Stuart Ferguson, more than matched the Yorkshire side to run out winners.
For more gems from the BBC's rugby league archive, watch the Super League Show every Monday night on BBC One in the north of England, with the nationwide repeat the following day on BBC Two.
The show is available all week on the iPlayer, while the accompanying SLS2 can be found on the BBC Sport website every Tuesday.