Marwan Koukash: Salford Red Devils owner undecided on selling the club
Last updated on .From the section Rugby League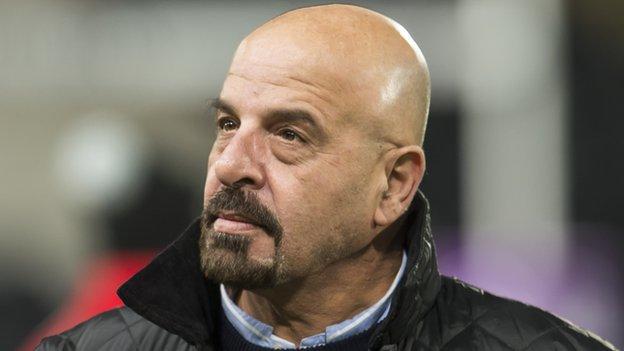 Salford Red Devils owner Marwan Koukash says he has still not decided whether he will sell the club at the end of the current season.
Koukash has owned the Super League team since 2013 but it has stated before he could leave Salford.
"My plans are to make sure we win the next few games. We'll see what happens at the end of the season," he said.
"I have not made my mind up to walk away, I'm working hard to make sure it is financially viable for next year."
Salford scored 13 tries as they comfortably beat Featherstone on Sunday in a game where only 1,759 were in attendance at the AJ Bell Stadium.
"It was a crucial game, there was no football around, there was good weather, it's a Sunday where families can come and we reduced ticket prices," Koukash told BBC Radio Manchester.
"To only have 1,750 for a crucial game, I must say I'm very disappointed. What the fans all have to understand is that next year the club will only be able to spend what it can afford.
"I can no longer keep bankrolling it the way I did. If the fans wanted to see a competitive Super League side they need to start turning up."
Despite his future with the club being in doubt, Koukash said he could not buy another rugby league club if his time with Salford was to end.
"Once you are a Red Devil, you will always be a Red Devil. I will never be involved with another club, that's it. The time when I finish from Salford, I will just sit back and enjoy the sport like any other fan," he added.