Warrington Wolves: Ashton Sims calm about poor Super League start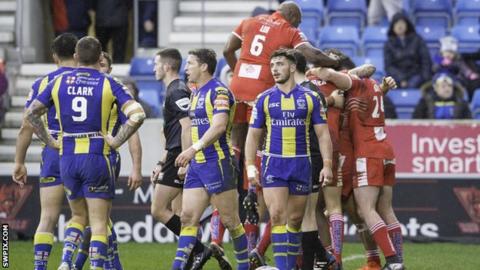 Warrington are not feeling the pressure of their winless start to Super League, says Wire prop Ashton Sims.
Despite beating NRL side Brisbane Broncos in the World Club Series, Tony Smith's Wolves have lost their opening three games in the league.
They won the League Leaders' Shield in 2016, but were beaten in the Challenge Cup final and Super League Grand Final.
"I think we put pressure on ourselves more than anyone," Fiji international Sims, 32, told BBC Sport.
"We had such a good, if not a great, year last year and we as players all want to go one better.
"There's no panic, we know what we're doing as in shooting ourselves in the foot with some stuff in the game.
"That's full credit to Tony Smith and the coaches. It's not the start we wanted but we know what we can do and we've already shown that against one of the NRL teams."