Super League playercam trial set to continue despite 'technical issues'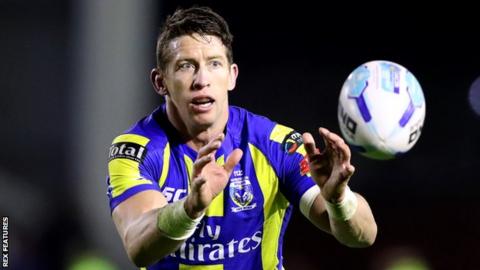 A trial of playercam in Super League is set to continue despite technical problems halting its first use between Leigh and Warrington.
Wolves' Kurt Gidley, 34, became the first rugby league player to wear a camera during Thursday's 22-8 defeat.
Television viewers were told at half-time that the device had been removed because of "technical issues".
"I don't know if it had any effect on what he did, but the camera went at half-time," said Wire coach Tony Smith.
"Kurt wanted to get on with playing footy. I don't think things were going great for Kurt at that stage. He needed to get it off and just get on with playing."
The camera, which was mounted on a vest behind a hole in Gidley's shirt, was worn to try to give viewers a unique perspective of the contact sport.
Gidley had said before kick-off that the experimental idea "painted a target" on him.
Wolves are bottom of Super League and without a win after five successive defeats, but Smith said the technology could not be used as an excuse.
"I hope they got some good footage from it," he added. "I think it was done for all the right reasons to try and give people a perspective of rugby league from a different angle."
Sky Sports, who broadcast live Super League, have said they will continue with the experiment.
"We had a few technical issues with the camera which could not be resolved in the half-time break," a spokesperson said.
"Kurt was happy to continue wearing it and it was a decision made by our production team and Warrington, not his, to take it off.
"After we have reviewed the game and the camera we will certainly look to give it another go."