Jamie Jones-Buchanan: Leeds Rhinos forward targets 20th season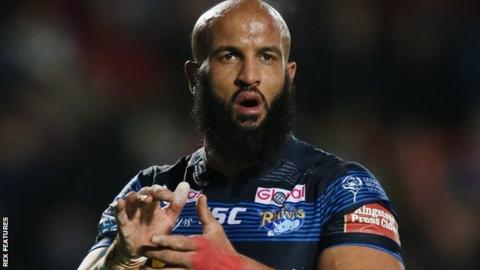 Leeds Rhinos forward Jamie Jones-Buchanan is hoping to remain with the club next year, taking him into a 20th season with the club.
The 35-year-old made his debut for the Headingley side in 1999 and has made 363 appearances for the club.
His current deal runs to the end of the 2017 campaign.
"I've given it a lot of thought and God willing if the body is right and the team wants me then I will have a go again," he told BBC Radio Leeds.
"If you look at the stats in the last two or three years, I have played some of the best rugby I have ever played. Just because I am a certain age doesn't faze me one single bit."
The former England international added: "The crux of it is that it is not about Jamie Jones-Buchanan, it's about Leeds Rhinos.
"I will do whatever is best for the team whether that is play or be on the sidelines and let someone new come in and take on the mantle.
"We're not footballers and we don't earn millions of pounds. When I finish playing I need to think about what I want to do next in terms of employment."
Jones-Buchanan has won six Grand Finals and one Challenge Cup with the Rhinos