Rugby League World Cup 2017: How it works, who will win and trendy Tonga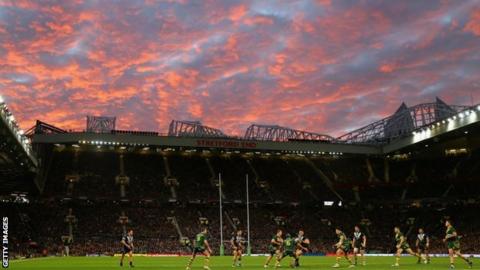 Rugby League World Cup
Host nations: Australia, New Zealand & Papua New Guinea Dates: 27 October-2 December
Coverage: All England matches live on BBC TV, plus highlights of all other matches. Also live commentary on BBC Radio 5 live and online
The Rugby League World Cup kicks off on Friday, when co-hosts and reigning champions Australia play England in Melbourne.
It will be the first of 28 matches over 36 days played across 12 venues in three countries.
With kick-off times ranging from 04:05 GMT to 10:05 GMT this could be a tournament for the enthusiast for an early start, but anyone who remembers England's thrilling - if agonising - semi-final defeat at Wembley in 2013 will testify to the drama this tournament can produce.
How does it work?
Rugby league is no stranger to the convoluted format, as anyone familiar with the old Super League play-off system will know.
However, this tournament has a relatively sane structure, with 14 teams spread across four groups.
Groups A and B have four teams, from which the top three progress to the quarter-finals, while Groups C and D have three teams, with only the winners going into the last eight.
We are then into the knockout stage, with the final in Brisbane on 2 December as part of a double-header along with the women's World Cup final.
Can I watch it on the BBC?
Yes. You will be able to watch every England game live on BBC television - and there will also be highlights programmes featuring all the key action on television, with extended highlights on the Red Button.
Regardless of whether England are there or not, one quarter-final, one semi-final and the final will be shown live, while there will be an extensive number of commentaries on BBC Radio 5 live and sports extra.
There will be reports and highlights on the website of all games involving the home nations, and live text commentaries on all England games.
And, for the first time, you can follow the fortunes of their favourite teams with live match notifications sent straight your phone or tablet via the BBC Sport app. Line-up, kick-off, score, half-time and full-time options are available for all teams participating at the World Cup.
Who is going to win?
Well, the cynic might say the tournament is played with various teams harbouring high hopes and ending with Australia flattening their opposition in the final.
True, New Zealand disabused that notion with their stunning 34-20 win in the 2008 final and also defeated the Kangaroos in the 2014 Four Nations final.
Matters reverted to type in the 2013 final in Manchester, with Australia pulverising the Kiwis 34-2 in a terrible advert for a major final. They then repeated the trick in the 2016 Four Nations final, winning 34-8 against New Zealand at Anfield.
Mal Meninga's team are massive odds-on favourites to retain their title on home soil - handing them what would be their 11th victory in 15 tournaments.
The significance of their opening game against England cannot be overstated. Whoever wins that will, barring a subsequent catastrophe against Lebanon or France, have a much easier route to the final, avoiding the mercurial Kiwis.
What sort of mood is Wayne Bennett in?
Last year's Four Nations was the veteran Australian's first tournament as England coach - but if he was enjoying it, he managed to hide his excitement.
His surly demeanour and monosyllabic performances in front of the media led to accusations he was failing in his duty to help grow the game. Some even called him a disgrace.
Everyone knows Bennett is no fan of the media and his mood will hardly have been lifted by the 30-0 defeat his club side Brisbane Broncos suffered against Melbourne Storm in their NRL eliminator.
In addition to coaching England, he also has to oversee a tough rebuilding job at the Queensland club before next season. Plenty for the 67-year-old to consider then.
Still, the way the NRL season panned out meant all of his key players based down under should be rested by the time the tournament starts and the training sessions in the build-up have apparently gone very well.
The Burgess brothers at South Sydney Rabbitohs, James Graham and Gareth Widdop at St George, Elliot Whitehead and Josh Hodgson at Canberra - all were at teams that failed to finish in the top eight.
Bennett laid into his players after they rather tamely failed to reach last year's Four Nation's final.
"England are capable of being a lot better than they are," he said. "Our inability to maintain pressure. Not finding the sideline on two occasions. The stupid penalties when we've done something good. I saw the guys doing the same thing in their club football. They get away with it at that level. They can't get away with it here."
The Australian must be hoping that, 12 months on, the lessons he tried to implant in his players have been learned.
What about the other Home Nations?
Wales, Ireland and Scotland are also at the tournament.
The Welsh and Irish had better not forget their sun cream because they face hot and testing group matches against Papua New Guinea in Port Moresby.
The average temperature in Port Moresby in October and November is 27C - and with PNG the only country in the world with rugby league as its national sport, a hostile atmosphere is guaranteed.
With only one team going through from their group, it would be a real achievement for either Wales boss John Kear or Ireland's Mark Aston to reach the knockout stages.
In one respect, Scotland appear to have a better chance of qualifying because they are in a group of four from which three teams will progress.
Steve McCormack's team can look to their sensational 18-18 draw with New Zealand in last year's Four Nations for inspiration - but it isn't going to be easy.
Playing the Kiwis in Christchurch will be very different to their match in wet and windy Workington, and although they are ranked fourth, above the other two teams in the group - Samoa (fifth) and Tonga (11th) - they can expect two very bruising encounters.
Is it all about the usual suspects?
Whatever spin you put on it, whoever you support, the absence of Australia's brilliant half-back Johnathan Thurston is a blow for the tournament.
The North Queensland Cowboy suffered a season-ending injury in June but Meninga is hardly short of proven talent, with hooker and skipper Cameron Smith and half-back Cooper Cronk - both fresh from Melbourne's Grand Final thrashing of the Cowboys - fit and ready to navigate a commanding and mobile pack around.
It has not been a vintage season from 'Slammin' Sam Burgess, but the former rugby union convert remains big down under and England need him to inspire.
If going forward is your thing then look no further than North Queen Cowboy Jason Taumalolo, often described as a wrecking ball and one of the most destructive players in the game. Taumalolo has been in the news recently - more on that later.
And keep an eye out for Italy full-back James Tedesco.
He was voted the best player in the Australian NRL last year by his peers and many thought the 24-year-old was unlucky to miss out on a place in the Kangaroos squad.
No matter, he made full advantage of the two-tier rule (more on that later too) and was straight on the phone to Cameron Ciraldo to declare his availability for the Italians.
What can you tell me about Tonga?
Ah yes, Tonga. Stick with me here because this is interesting.
There is a two-tier system in international rugby league. Basically, if a player is not getting selected for Australia, New Zealand or England (tier one nations), they can opt to play for a tier-two nation. At least, that's the way it used to work.
Andrew Fifita was named in Australia's World Cup squad and, as recently as June, Taumalolo was photographed draped in a Kiwi flag as part of a publicity drive to promote the tournament.
Both of them - along with numerous others eligible to play for New Zealand - opted to play for Tonga instead.
A straight-faced Meninga said he respected Fifita's decision, while Kiwi boss David Kidwell admitted he had been left in the dark by it all.
It probably isn't great for Scotland, who are in Tonga's group - and it means the Tongans are likely to be extremely dangerous opponents for any of the top sides.
It could be good news for England given it means the Kiwis have a weaker-than-expected squad, while a team shaping up to nudge their way into the top three has surely got to be good news for the international game.
What about the women's competition?
Good question. The women's World Cup runs parallel to the men's competition, starting on 16 November and ending with that double-header final in Brisbane on 2 December.
It is a six-team competition, with England the sole representatives from Europe.
There are two groups of three teams, with the top two in each going through to the last four.
The Lionesses are in a group with host nation Australia - known as the Jillaroos - and the Cook Islands.
Ruan Sims is one of their key players, and last year signed the first paid contract in women's rugby league, a one-year deal with NRL side Cronulla Sharks.
Sims is the sister of male players Ashton and Korbin Sims. Those two will be playing for Fiji at the men's World Cup.
Canada, New Zealand and Papua New Guinea are the other three teams involved.