Luke Gale: Castleford scrum-half amazed by Grand Final opportunity after surgery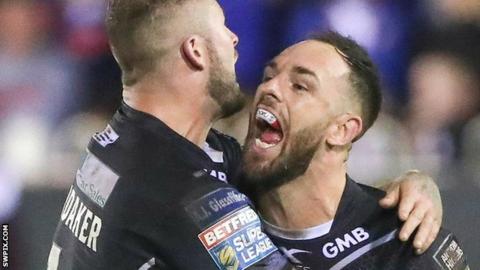 Castleford scrum-half Luke Gale says it is "amazing" that he is set to play in the Super League Grand Final less than a month after a major operation.
The 29-year-old had his appendix removed but returned 16 days later to face St Helens in the semi-final.
And the England international scored a game-winning drop-goal in extra time.
"It has been an emotional rollercoaster from thinking the season was over to playing in the Grand Final on Saturday," Gale told BBC Radio 5 live.
"It is pretty amazing really and a rollercoaster probably sums it up."
In their dramatic win over the Saints, Gale crossed for a try and scored a late penalty to take the game to golden-point extra time.
'I have some important matches to play'
The thrill of a victory in front of a capacity crowd at The Jungle was in stark contrast to Gale lying in a hospital bed believing his season was over.
He said: "When I went into hospital they told me 'it was appendicitis and I was going to have them removed tonight'.
"I explained I played rugby and I had a couple of important games coming up and she basically said 'oh, you can forget about them'.
"I replied and said 'you don't understand I have a big semi-final coming up in two weeks time' and she said 'you have no chance'."
Gale also feared he would miss the World Cup in Australia, which begins on 27 October.
"I explained about England and she told me I would not be playing rugby for a long time," he continued.
"I laid on the bed and had some dark moments if I am honest and then the specialist came up and said 'if we go keyhole and it all goes well, you can be back in three weeks time'."
'I knew I would be ready'
The gap between the operation and the semi-final was only 16 days, but reassured by the specialist's prognosis, Gale was confident he would be ready.
He added: "I did a bit of maths, which took me a few minutes to add it up and it gave me two weeks and two days and I knew from then I would be playing.
"I knew it would be touch and go but we did a bit more each day. I trained the Monday before the St Helens game and I wanted to do as much as a I could, I wanted to do everything."
Listen to BBC Radio 5 live's Grand Final preview at 19:30 BST on Tuesday, or listen again here.