Toronto Wolfpack owner Eric Perez plans to launch two more American sides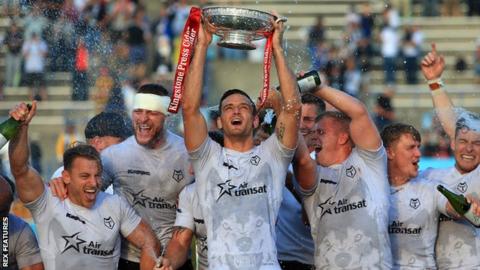 The man behind the Toronto Wolfpack is set to launch bids for two more North America rugby league sides.
Eric Perez is in advanced talks with two professional sports clubs, believed to be in Hamilton and Boston, and will begin negotiations with the Rugby Football League in the next few days.
And he's hoping that both clubs can be launched by 2019 and 2020.
"I'm hoping that within the next six months we can make a formal announcement," Perez told BBC Sport.
"I can't really say where they are right now," he added.
"I don't know where the Hamilton rumour came from, but it would be a logical choice. Hamiton is about an hour away from Toronto. There's about a million people in the area, but between Toronto and Hamilton there are 12 million people.
"I can't confirm or deny (Boston), but you are very well informed. It's a good speculation, but there could be other cities in the mix."
Toronto were promoted from League One this year after a season that saw them lose just one league game. They have already made a number of big name signings including Warrington pair Joe Westernan and Ashton Simms ahead of their push to claim a place in Super League.
But Perez says this was never just a one club project.
"When we started this journey, we knew that one team is not enough to yield what you need to yield from the market." he said. "To bring revenues, to really start bringing new money into the sport you've got to have multi-markets.
"Now that Toronto is up and running and in a very good place - definitely the strongest team commercially outside of Super League - it's time to fulfil that destiny and get the next teams set up.
"I've decided to partner up with other professional sports teams that own their markets, so they already have the infrastructure and the expertise set up which will make it easier.
"Toronto was the first of its kind, so a test project. There were a lot of mistakes made and a lot of lessons learned. By partnering with these other professional teams I think we will find an easier road to success."
And he says the new clubs would be happy to come into the Rugby League structure at whatever level the game chose.
"Everyone knows the format might be changing, so that remains to be seen." he added.
"But we're looking at 2019 and 2020 kick offs for these new clubs. If we do start in League 1 then that's fair, but if we start higher, then that's because the format has changed.
"Wherever we start we'll work our way to the Super League."
And he says three North American clubs is not the limit of his ambitions.
"We are looking to make Super League the most commercially viable competition, apart from the Premiership, that plays in the northern hemisphere.
"To do that you need to have more North American markets, at least five or six clubs in the next 10 years."
You can listen to more from Eric Perez in the rugby league podcast from Monday, 9 October.