Chester Butler: 'No-one believed my grandad was Colin Dixon'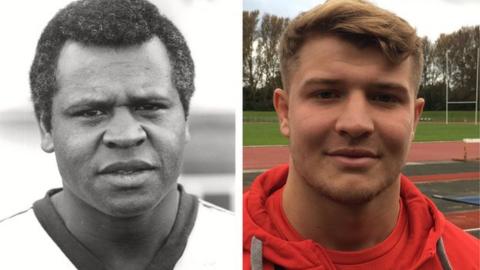 Rugby League World Cup on the BBC
Venues: Australia, New Zealand and Papua New Guinea
Dates: 27 October to 2 December
Coverage: Watch live coverage and highlights on BBC TV, Connected TV, online & the BBC Sport app and listen to live commentary on BBC Radio 5 live.
Chester Butler has been given a dream World Cup call-up - only days after it was revealed he's the grandson of one Welsh rugby league's greatest players.
No-one believed him when he told them his grandad was the Cardiff-born World Cup winner Colin Dixon. But now he's proved his ancestry and Wales coach John Kear has drafted him straight into his 24-man squad.
With just a week's notice, Butler is travelling down under as part of a Wales squad that will face Papua New Guinea, Ireland and Fiji in the group stages.
"No-one actually believed Colin Dixon was my grandad, because, well, he was black and I'm white," said Butler.
"But it hit them when I showed them the evidence and they said: 'Wow.'"
'I've heard he was a big hitter'
Dixon was capped 30 times by Wales and Great Britain between 1963 and 1981. A star with Halifax and Salford, he was part of the 1972 World Cup-winning GB team.
Butler, a centre or winger at Championship club Halifax, never saw his grandad play. He was born a couple of years after the Welsh legend's death in the early 1990s. But he has heard plenty of the stories.
"My mum and uncle, his kids, have said a lot about him. He's a very missed man. A lot of people knew him." added Butler, who celebrated his 22nd birthday earlier this month.
"I've heard he was a big hitter, a strong carrier. He played all over the shop. He was horrible on the pitch, but a teddy bear off it.
"I grew up playing union, it's only just come about in my life through playing league."
Butler's agent tipped off Wales Rugby League after Butler revealed the family link - producing passports and wedding certificates to prove it - and he had a call a week ago from Wales team manager Bob Wilson putting him on standby.
"Two or three days ago he rang me up again. I was asleep, I was still in bed, and he said: 'Congratulations buddy, you're going to the World Cup'," said Butler.
"I just couldn't believe it. I thought, 'wow, I'm off the the World Cup'."
Butler has cancelled two planned holidays, but says he had no hesitation in order to play for the team that Colin Dixon dominated in the 1970s. And even his given name has links to his grandad.
"The family story goes that my mum saw Chester Williams, the South African rugby union winger play, and thought he looked like my grandad. So when I came along, they called me Chester," he says.