Women's Super League: Wigan Warriors to set up women's rugby league team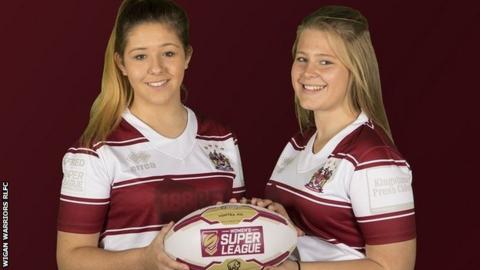 Wigan Warriors have set up a women's open-age team for 2018, with the ambition of joining the Women's Super League competition.
The team, to be coached by level three-qualified coach Amanda Wilkinson, is to launch on 16 November with open trials to follow on 18 and 25 November.
Future plans are to develop a youth structure with age-group teams leading to the seniors.
"Rugby League is not just for men and boys," Wilkinson said.
"It's a family game and we are delighted to be launching our first ever Wigan Warriors Women's team."
Chairman Ian Lenagan added: "At Wigan we want our Women's team to be an important part of the club.
"Amanda Wilkinson is a fantastic coach and a valued member of staff and exactly the kind of person who should be spearheading a project like this."
Women's Super League currently involved just four teams: Bradford Bulls, Thatto Heath St Helens, Featherstone Rovers and Castleford.