Rugby League World Cup: England winger Ryan Hall desperate to defeat Australia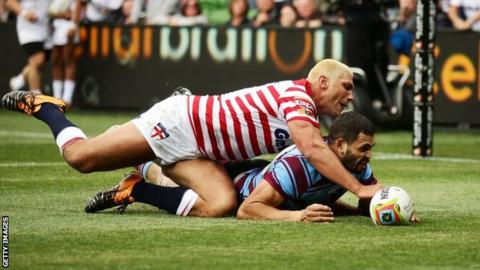 Rugby League World Cup on the BBC
Venues: Australia, New Zealand and Papua New Guinea
Dates: 27 October to 2 December
Coverage: Watch live coverage and highlights on BBC TV, Connected TV, online & the BBC Sport app and listen to live commentary on BBC Radio 5 live and Sports Extra.
Ryan Hall's try scoring record makes him an international phenomenon.
The Leeds Rhinos winger has sprinted, dived, bullied and slid over the whitewash for an amazing 34 tries in his 33 England appearances, including last Friday's World Cup warm-up win over Affiliated States, making him the leading scorer for his country.
But he prefers the gory to the glory, and insists that it's his capacity for hard work at the other end of the field that makes him an automatic England choice.
"It's nice. It's not important, it's just nice," says Hall, of his try-a-game record for his country.
"When I retire I'll look back on it and be very proud. But it's about me providing something for the team in the style of play that I do that matters."
If England are to make a significant impact at the World Cup - which starts with a match against overwhelming favourites and co-hosts Australia in Melbourne on Friday - then they will need Hall to hit top form.
He and Huddersfield Giants' Jermaine McGillvary are the only other recognised wingers in Wayne Bennett's 24-man squad - and both have a reputation for their heavy-duty approach.
Hall is 6ft 2in and a shade over 16st. McGillvary is a shade under 6ft but still nudging 15st.
Both men are bigger than some of the forwards they play alongside, and both make a habit of helping their teams clear their own lines when the pressure is on.
McGillvary was the second-highest metre-maker in Super League, with 3,883m. Hall ended last season winning the Grand Final for the sixth time and finished fourth with 3,398m.
Hall scored 10 tries last season - some way below his career-high 28 in 2009 - but the 29-year-old, an honest and intelligent individual, is keen to stress that the evolution of his role means his contribution must be measured by more than the points he scores.
Where once a winger would wait close to the touchline for his turn to attack, these days they often roam infield looking for the ball, making hard yards early in the tackle count, effectively performing the role of another forward.
"My try-scoring record hasn't been very good this year, but it's not just about that now." added Hall.
"The modern-day winger's role has changed a bit and I think I do the other side of those things quite well.
"And I think Wayne does too. He's shown confidence in me and Jerry to provide the team what it needs."
The pair look certain to start the opening World Cup fixture against Australia at AAMI Park on Friday. It's a game that could decide who finishes top of Group A, which also includes France and Lebanon.
Hall has bittersweet memories of his last game against the Aussies at that ground.
England lost 16-12 in a Four Nations group game there in 2014 - but a last-minute try by the Leeds winger was controversially ruled out, despite video evidence showing he had a finger on the ball.
"I was gutted." he said. "The Aussies keep doing it to us, don't they? They keep beating us.
"That was in the dying seconds and that one decision could have won us the game. But every loss makes us more hungry for next time."
Great Britain won in Sydney in 2006, but since then they and England have been on the wrong end of 10 straight defeats. Their last meeting was a 36-18 reverse at London Stadium in last year's Four Nations.
"We've never really pieced together an 80-minute performance against Australia.
"But that's what gives us confidence as well because when we do put 80 minutes together - the best that we can play - I think we are going to beat them."
You can follow the fortunes of your favourite team with live match notifications sent straight to your phone or tablet via the BBC Sport app. Line-up, kick-off, score, half-time and full-time options are available for all teams participating at the World Cup.